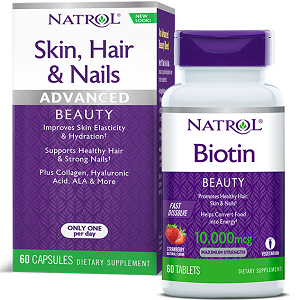 Natrol Biotin - Does It Work?-Review
What is Natrol Biotin?
This is a review of the product Biotin produced by Natrol. Biotin is a water-soluble Vitamin B supplement which is good for skin, hair, and nails, as well as converting food into energy. This product claims to improve and maintain the health of your hair and skin condition, as well as the strength of your nails.  Here are some further facts we have found about the product:
Ingredients & How It Works
Natrol provides Biotin in forms of:
Biotin Tablet:
Biotin with Calcium
Microcrystalline Cellulose
Cellulose Gum
Magnesium stearate
Methylcellulose
Glycerin
Silicon dioxide
Stearic acid
Biotin enables metabolism of fats, carbohydrates, and proteins and is good for skin, nails, and hair
Biotin Fast Dissolve:
Strawberry flavored tablet that dissolves on the tongue or with liquids.  They claim it is absorbed into the system 30x faster than normal tablets.
Biotin
Xylitol
Maltodextrin
Crospovidone
Modified food starch
Malic acid
Silicon dioxide
Natural Flavor
Stearic acid
Beetroot extract
Citric acid
Cellulose Gum
Magnesium stearate
Biotin Plus:
Biotin with Lutein
Lutein
Dicalcium
Phosphate
Microcrystalline Cellulose
Cellulose Gum
Silica
Acacia gum
Pea Starch
Magnesium Stearate
Methylcellulose
Glycerin
Rosemary Extract
Lutein is found in leafy green vegetables like spinach and kale which improves the skin's hydration and elasticity, protects against aging signs and is good for the eyes.
The products contain wheat, which may react with people with wheat allergies.
Daily Serving
Biotin Tablet in 1000 mcg, 5000 mcg, and 10 000 mcg strength: 1 tablet per day with meals.
Biotin Fast Dissolve in 1000 mcg, 5000 mcg and 10 000 mcg strength: 1 tablet per day.
Biotin Plus which provides 5000mcg and only 1 tablet is necessary with meals.
In reviewing the different options, we find it rather unusual that only one tablet is prescribed, no matter the strength of tablet.
The Cost
Depending on which strength or capsule form you choose, the price ranges from about $16.34 to $6.39. There are 90, 100 and 150 count bottles available for purchase online. The manufacturer does not offer any purchases directly from their website but they do have a list of authorized third-party suppliers. Since the manufacturer does not sell these products directly, there are no bulk purchase discounts available however, the third party retailers do offer specials of their own depending on which one you choose to buy from.   
Guarantee
They claim to use the best quality ingredients with strict controls and conform to the Natural Products Association.  We were not able to find any kind of money-back guarantee or warranty for this product which is concerning as the manufacturer does not offer any confidence in the effectiveness of the formula and the consumer may be at risk of losing out on money if they find this product does not deliver any measurable results
Our Review Summary Of Natrol Biotin
In reviewing this product, we like that it is suitable for vegetarians and has no artificial additives. We like the different options given in tablet and effervescent form and varying strengths. The fast dissolve tablet can be taken at any time without water. They claim high standards in quality and customer satisfaction, however, we couldn't find any guarantee for this product which is concerning.  The products cannot be bought off their website, which we also found difficult to navigate and find information on. This may be a good product but there doesn't seem to be anything that differentiates it from its competitors. We found no customer reviews on their website for their products.
Well researched reviews, from the experts at Research & You.