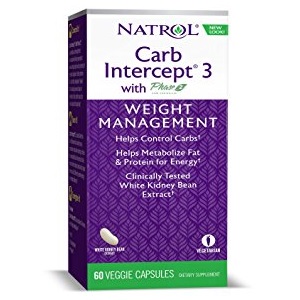 Natrol Carb Intercept 3 - Does It Work?-Review
What is Natrol Carb Intercept 3?
Carb Intercept 3 is designed to support weight loss. The manufacturer of this product claims that it can assist to block carbs, burn calories and metabolize fat. Below is a review on this dietary supplement.
Ingredients & How It Works
2 capsules contain:
Carbohydrate (1 g) - This provides energy.
Chromium (20 mcg) – This substance is believed to promote fat burning. It boosts metabolism, and suppresses appetite, although there are some claims that this substance only reduces sugar cravings.
Sodium (915 mg) – This substance is used in enzyme activities and for muscle contraction. Furthermore, sodium helps fluid maintenance and osmoregulation in the body.
Phase 2 Carb Controller Complex (White Kidney Bean Extract, 750 mg) – White kidney bean extract is effective at supporting weight loss. In addition, this substance helps against high cholesterol, diabetes, and kidney stones.
Green Tea Leaf Extract (270 mg) – High in catechin, this antioxidant helps fight oxidative stress. It also helps with improved metabolic rate and energy levels.
EGCG (75 mg) - This helps to burn calories and contribute to weight loss.
Caffeine (75 mg) – Increases energy levels and metabolism, but also regulates moods, while promoting fat burning.
Other ingredients: Cellulose, silica, magnesium stearate, gelatin, dicalcium phosphate, maltodextrin, gum arabic, yeast.
The formula contains gelatin. There is no mention by the manufacturer from which source the magnesium stearate comes. This makes little difference, however, as gelatin is an animal product.
Daily Serving
The manufacturer suggests taking 2 capsules twice daily with meals. No mention is made of at which daily meals this should be. However, before taking this dietary supplement, consult a doctor, particularly if you are pregnant, nursing, have a medical illness, or are taking prescription medication.
The Cost
A bottle of 60 capsules of Carb Intercept 3 is available at $13.00, excluding shipping fee. No discounts are available on bulk purchases.
Guarantee
Our research was unable to locate a manufacturer's guarantee, nor is a refund offered. This is a concern. A lack of guarantee could imply lack of confidence in the efficacy of this carb blocker.
Our Review Summary of Carb Intercept 3
This weight-loss product, Carb Intercept 3 is made of all-natural ingredients to increase metabolism, and block carbs. The formula contains known ingredients, such as white kidney bean extract, that could result in weight loss. In addition, the price seems fair compared to other products. On the downside, there is no guarantee, nor are refunds entertained. This implies that there is no free trial period. The product may be ineffective or may cause side effects. No redress is forthcoming. Furthermore, no discounts on bulk purchases are given to shoppers by the manufacturer of this supplement. Lastly, this formula contains sodium. This substance can lead to high blood pressure, stroke, and heart disease. There are other carb blocker and slimming treatments on the market that do not contain this element. It may be safer to use such a treatment product, especially if you have already experienced cardiovascular problems.
Well researched reviews, from the experts at Research & You.