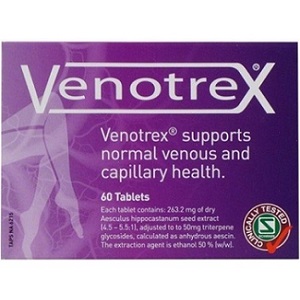 NatRx Venotrex - Does It Work?-Review
What is NatRx Venotrex?
The following product review examines NatRx Venotrex and explores all the real facts. The manufacturer's claims state that this product can offer you relief from varicose veins, spider veins, and hemorrhoids. This product claims that it will also effectively assist with venous symptoms such as pain, itching, swelling, and fluid retention.
Ingredients & How It Works
Horse Chestnut Seed Extract - 263.2 mg
Horse Chestnut Seed Extract can be used for the treatment of varicose veins, hemorrhoids, and swollen veins and it works by thinning the blood and preventing water retention. Unfortunately, research advises that this ingredient may cause side effects such as dizziness, headaches, stomach upset and itching.
Daily Serving
The manufacturer recommends that you should take one tablet twice a day before meals and additionally advises that you should use this product for at least two months. According to the manufacturer, you should begin to notice results after four weeks of use. It is cautioned that this product is not suitable for use if you are pregnant or nursing and that if your symptoms persist, you should consult a healthcare practitioner.
The Cost
This product can be purchased online and it will cost you $30.60 to purchase one box containing 60 tablets directly from the manufacturer. There seem to be no discounted options offered for bulk purchases which is rather disappointing.
Guarantee
There is no money back guarantee provided for this product according to the manufacturer's website and this is understandably concerning because in general, this questions the level of quality and it also suggests that it may not be able to offer the claimed effective results.
Our Review Summary Of NatRx Venotrex
NatRx Venotrex could be viewed as an ok product to opt for because it does seem reasonably priced in comparison to most other similar products and the manufacturer provides clear dosage instructions to ensure that it is used correctly. It is concerning that the key ingredient used could cause a few unpleasant side effects according to research and it also seems that it may be lacking additional ingredients in comparison to other similar products and this could imply that it is not as capable of offering effective results. The manufacturer, unfortunately, shows a lack of confidence by failing to back this product with any kind of guarantee and this negatively impacts and influences the already questionable effective results and therefore, realistically, this is most likely not a logical product to consider especially because there are other similar products available from leading brands that have proven to be effective that you would find far more suitable.
Well researched reviews, from the experts at Research & You.