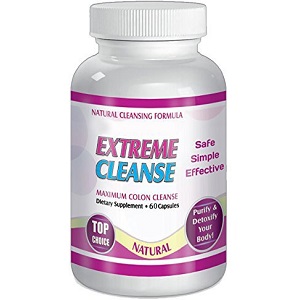 Natural Cleansing Formula Extreme Cleanse - Does It Work?-Review
What is Natural Cleansing Formula Extreme Cleanse?
Many factors like stress, keeping a diet low in fiber, eating junk food, not drinking enough water and not exercising enough can all be reasons why you are experiencing constipation. Laxatives are a popular choice for relief from constipation but laxatives can be harsh on your system and can cause you to become dependant on them in order to achieve regular bowel movements. This review is going to take a closer look at Natural Cleansing Formula Extreme Cleanse. This product is a natural cleanse that is composed of several natural ingredients that are designed to help you achieve regular and easier to pass bowel movements. The manufacturer claims that taking this supplement will help control your appetite, can increase your metabolism, burn fat, shrink fat cells and will boost your energy levels.
Ingredients & How It Works
Aloe Ferox Extract

Cascara Sagrada

Fennel

Apple Fiber

Buckthorn

Rhubarb

Ginger
Fennel is believed to relax that colon to make it easier to pass stools. Apple Fiber is a good dietary source of fiber and it allows for more water to be absorbed in your stool to make it easier to pass. Buckthorn contains a source of essential omega fatty acids which coat the intestinal tract and lubricate the mucous membranes which help with maintaining healthy digestion. Rhubarb contains anthraquinones that are the compounds which have laxative effects. It also contains tannins which has anti-inflammatory effects. Ginger causes the inside of your body to generate more heat which can stimulate digestion and help relieve constipation.
Daily Serving
The manufacturer suggests taking one or two capsules a day after dinner.
If you are pregnant, nursing or under medical supervision, you should talk to your doctor before taking this product.
The Cost
You can purchase this cleanse exclusively from third-party retailers. We found one bottle online for $32.99. There are no bulk purchasing packages or discounts but that can vary according to the manufacturer you purchase from.
Guarantee
We were unable to find a manufacturer's guarantee. We strongly recommend contacting their customer service to inquire about their up to date return policy, should you choose to move forward with this product.
Our Review Summary Of Natural Cleansing Formula Extreme Cleanse
This product appears to be a decent cleansing formula. It contains a blend of ingredients that have been shown to individually contain properties that make bowel movements regular and easier to pass and their formula comes in easy to take capsules. However, it appears that their formula may be flawed because the consumer reviews we saw claim that this supplement is weak and does not work. Consumers claimed that after continuously taking this supplement and following the manufacturer's dosage instructions, they did not see any results. Furthermore, it appears that the manufacturer does not offer a money-back guarantee. This is concerning and suggests the manufacturer's lack of confidence in their product's abilities. You are better off purchasing a supplement with positive consumer reviews and a strong manufacturer's guarantee.
Well researched reviews, from the experts at Research & You.