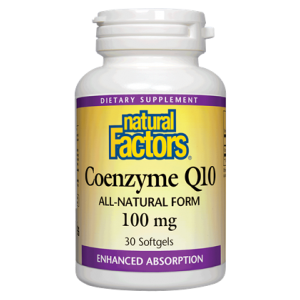 Natural Factors Coenzyme Q10 - Does It Work?-Review
What is Natural Factors Coenzyme Q10?
This is a review of Coenzyme Q10. The manufacturer, Natural Factors, claims that their product supports heart health and helps to maintain a normal heart function. In addition, this supplement is said to be a strong antioxidant and free-radical scavenger. This dietary supplement helps to promote healthy gum, restoring energy and vitality.
Ingredients & How It Works
The active ingredient is Coenzyme Q10 ubiquinone (microorganism) (30 mg). Coenzyme Q10, which is a vitamin-like essential nutrient, is produced by the body. However, with age, levels of the nutrient decrease. The benefits of this substance is that it assists the body with cellular energy production, needed by each cell in the body. In addition, it augments cardiovascular and brain health.
Other inactive ingredients include microcrystalline cellulose, capsule (gelatin, purified water), as cited on the manufacturer's website. However our research found that yet other inactive ingredients include rice bran oil, glycerin, carob, natural vitamin E, medium chain triglycerides (coconut), and soy lecithin. Therefore, this product is not suitable for people with soy allergies, or vegans or vegetarians, as it contains gelatin.
Daily Serving
The recommendation is to use one (1) capsule once or twice a day, alternatively, as instructed by your doctor. Even by taking the maximum suggested dosage, you will only gain 60 mg of CoQ10. Research studies have concluded that a CoQ10 dosage of 250 mg provides optimal benefits. Therefore, this product offers too low a daily dosage.
 The Cost
This product is not available online direct from the manufacturer. However, it is available from third-party sites such as Amazon. Four different sized bottles are available, based on the amount of the active ingredient in each. A 30 mg bottle costs $12.28. A 60 mg bottle costs $16.07. A 120 mg bottle costs $27.97. A 240 mg bottle costs $48.97.
Guarantee
Despite our research, we were unable to locate the manufacturer's guarantee. This product is not available for purchase on the manufacturer's own website. However, as it is sold on Amazon, the default refund policy of Amazon is applicable. This means that a buyer has up to 30 days to return the item, unopened, for a refund.
Our Review Summary Of Coenzyme Q10
This CoQ10 health product has potential to support your heart and brain health, as well as offer the energy your cells need. This particular product is available on well-respected online channels and comes in different strengths. More so, the reviews on this product are mostly positive. Our research found that 90% of the reviews on Amazon alone could be trusted. However, it lacks a guarantee from the manufacturer. As it stands now, if you buy from Amazon you can return the product within 30 days, but without testing it. Furthermore, some inactive ingredients are not declared on the manufacturer's own website: this is a concern. One undeclared substance is soy. People with soy allergies need this type of information before buying a product. Lastly, this product lacks substances such as black pepper.  CoQ10 is not always readily absorbed, making the addition of black pepper helpful.
Well researched reviews, from the experts at Research & You.