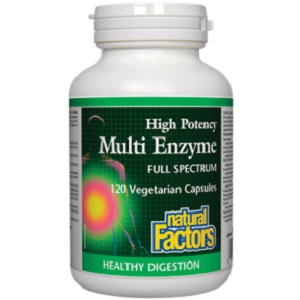 Natural Factors Multi Enzyme - Does It Work?-Review
What is Natural Factors Multi Enzyme?
The below review explore all the real facts about Natural Factors Multi Enzyme. The manufacturer claims that this product uses a blend of vegetarian sourced enzymes which will beneficially encourage normal digestion by helping your body to break down proteins, carbs and fats, improving the absorption of nutrients, stimulating good bacteria and cleansing the colon.
Ingredients & How It Works
Alpha-amylase - 126 mg
Cellulase - 36mg
Lactase - 11mg
Maltase (malt diastase) - 20mg
Sucrase (beta-fructofuranosidase) - 4mg
Hemicellulase - 20mg
Fungal protease - 110mg
Bacterial protease (Bacillus subtilis) - 10mg
Fungal protease - 11mg
Peptizyme SPTM (Serratia marcescens) - 2mg
Bromelain (pineapple stem) - 100mg
Papain - 25mg
Alpha-amylase is a protein enzyme that breaks down amylose which is a form of starch in carbohydrates and sugars. Cellulase assists by breaking down cellulose. Lactase is required for digesting lactose. Maltase and Sucrose break down both maltose and sucrose. Bromelain is an enzyme found in pineapple stems and it works by helping the body to digest proteins, fats and sugars. Papain is an enzyme found in papaya fruit that helps the body to digest proteins, fats and sugars and lipase breaks down fats.
Daily Serving
It is recommended by the manufacturer that you should take three capsules per day, one capsule in the mornings, one capsule in the afternoons and another capsule at night. It is rather unusual that the manufacturer seems to provide no cautions and warnings to ensure the safe usage of this product and therefore, you should rather consult a doctor to ensure that it is safe and suitable for you.
The Cost
You can purchase this product online from accredited third-party retailers and one bottle containing 120 vegetarian-friendly capsules for around $30.00. One bottle should last just over one month and unfortunately, there seem to be no discounted options offered according to most online retailers who stock this product.
Manufacturer's Guarantee
Unfortunately, the manufacturer does not provide a direct money back guarantee for this product and although some online retailers may have guarantees in place, this shows that the manufacturer is not confident enough to back this products claims with a significant guarantee and therefore, the quality and the effective results become questionable.
Our Review Summary Of Natural Factors Multi Enzyme
This product does use some good ingredients that may offer some health benefits and it is also vegetarian-friendly which could suggest that it is a fairly alright product. It is unfortunate that this product cannot be purchased directly from the manufacturer because this may affect the availability and it is even more concerning that the manufacturer does not provide any kind of guarantee to back the products claims and ensure customers a risk-free purchase. Furthermore, Natural Factors Multi Enzyme could cause a list of unpleasant side effects such as stomach pain, headaches, and constipation to mention only a few and with regards to all the relevant aspects, this product does not claim superiority in anyway and therefore, you should rather opt for a more suitable and more effective product available from leading brands who are confident enough to provide strong guarantees for their products.
Well researched reviews, from the experts at Research & You.