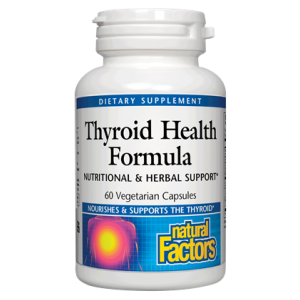 Natural Factors Thyroid Health - Does It Work?-Review
What is Natural Factors Thyroid Health?
It is estimated that more than 12% of Americans will develop a thyroid condition but up to 60% will not know they are experiencing one. Symptoms of a thyroid disease include weight gain, the inability to lose weight, fatigue, constipation, dry skin, and muscle weakness. This review is going to take a closer look at Natural Factors Thyroid Health Formulas. This product is a dietary supplement that is formulated with several ingredients that are designed to help you achieve and sustain better thyroid health and relief from symptoms of a thyroid disease.
Ingredients & How It Works
Pantothenic acid (as calcium pantothenate) - 100 mg

Iodine (as potassium iodine) - 100 mcg

Copper (as copper gluconate) - 0.5 mg

Manganese (as manganese citrate) - 0.5 mg

L-Tyrosine - 500 mg

Ashwagandha extract 5:1 (standardized to contain 1.5% withanolides) - 150 mg

Guggul (Commiphora mukul) extract 3:1 (standardized to contain 2.5% guggulsterones) - 120 mg
Other Ingredients: Vegetarian capsule, microcrystalline cellulose, magnesium stearate.
Pantothenic acid helps to produce many hormones in your body that includes adrenal gland hormones which are are stress hormones that help support the thyroid. It can help energy production, fat metabolism, brain health, and antioxidants. An Iodine deficiency is the most common cause of thyroid enlargement and hypothyroidism. L-Tyrosine is an amino acid that is necessary in order to produce thyroid hormones.
Daily Serving
The manufacturer recommends taking two capsules 1-2 times daily or as otherwise recommended by your doctor.
If you are pregnant, nursing or under medical supervision, you should talk to your doctor before taking this supplement.
The Cost
You can purchase this supplement exclusively from third-party retailers. We found one 60-capsule bottle online for $10.47. There are no bulk purchasing packages or options but that can vary according to the third-party retailer you purchase from.
Guarantee
We were unable to find a manufacturer's guarantee. This is risky and we recommend contacting their customer service to inquire about their up to date return policy, should you choose to move forward with this supplement.
Our Review Summary Of Natural Factors Thyroid Health
This product appears to be a promising tool that can potentially help you achieve and sustain a healthy functioning thyroid and relief from symptoms of a thyroid disease. It comes in easy to take capsules for convenience and it is formulated with a blend of ingredients that have been shown to contain properties that can improve your thyroid function. However, this product is not backed up by a manufacturer's guarantee. This suggests the manufacturer's lack of confidence in its product's abilities and is risky for the consumer. You can potentially take a thyroid health supplement daily for the rest of your life in order to maintain healthy thyroid function but the manufacturer does not offer any bulk purchasing packages to make it financially easier to choose their supplement. Furthermore, the consumer feedback we saw is mixed. Some consumers claimed that they felt relief from their symptoms but many consumers reported that this product does not work. They claimed that after continuously taking these capsules as instructed to by the manufacturer, they did not experience any relief. You are better off purchasing a supplement with positive consumer reviews, decent bulk purchasing options, and a strong manufacturer's guarantee.
Well researched reviews, from the experts at Research & You.