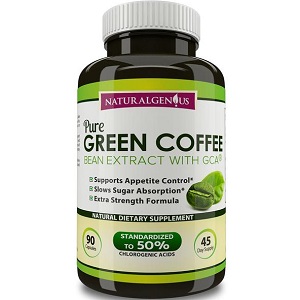 Natural Genius Pure Green Coffee Bean Extract - Does It Work?-Review
What is Natural Genius Pure Green Coffee Bean Extract?
This is a review of Natural Genius Pure Green Coffee Bean Extract, a nutritional supplement that supports appetite control and slows down your body's absorption of sugar in the liver to help with weight loss goals.  This product is intended for use by both men and women who should be, according to the manufacturer, both exercising and watching their diet for optimum results in a long-term weight loss strategy.
Ingredients & How It Works
Primary Ingredient
Green Coffee Bean Extract (Coffee Arabica, Standardized for 50% Chlorogenic Acids - 800mg
Secondary Ingredient
Vegetable Cellulose (Veggie Cap)
This is a good ingredient list and contains 50% Chlorogenic Acid.  This product has caffeine, but the amount is not specified on the product label. It has no fillers, binders, dangerous stimulants, artificial ingredients, wheat, soy, eggs, dairy shellfish, sugar, tree nuts or peanuts.
The recommended dose of Green Coffee Bean Extract is at least 700 mg/day and this product certainly meets that requirement. Chlorogenic Acid is the product in coffee beans that has antioxidant properties and affects weight loss.
Daily Serving
The product label for Natural Genius Pure Green Coffee Bean Extract states to take one capsule twice a day, 20-30 minutes before a meal with 8 ounces of water or as directed by your healthcare professional.  
Pregnant or nursing women, individuals on medications or with a medical condition, should consult their healthcare professional before using this product.
The Cost
This product is only available on the manufacturer's website and there are 90 capsules in each bottle. The prices are as follows: a 90-count bottle (a 45-day supply) for $39.98; two bottles (a 90-day supply) for $72.93; 4 bottles (a 180-day supply) for $133.88. Shipping is only available to the US and Canada and standard shipping is free if ordering two or more bottles to a US address.
Guarantee
The manufacturer offers a 60-day money back guarantee from the date of purchase but does not include the shipping costs.  Opened bottles will be subject to a 25% disposal fee; unopened bottles will receive a refund of the customer's purchase price.
Our Review Summary of Natural Genius Pure Green Coffee Bean Extract
Manufactured in a GMP facility,  Natural Genius Pure Green Coffee Bean Extract is a good vegetarian dietary supplement that is standardized to 50% Chlorogenic Acid to support appetite control which is the required dosage for the best possible results in losing weight. But we were quite frankly, turned off that the manufacturer offers such a spotty guarantee, and we are generally curious why the manufacturer does not inspire more confidence in buyers around offering a better guarantee to its customers. A 25% opened bottle surcharge? Really! It effectively means that a customer cannot try the product risk-free.  
Moreover, based on the very small number of customer reviews which are plainly available on the manufacturer's website, this product clearly does not work for everyone. Also at an expensive price point per bottle, purchasing the products of leading competitors with satisfaction guarantees, even up to a year, seems like a highly attractive option.  
Well researched reviews, from the experts at Research & You.