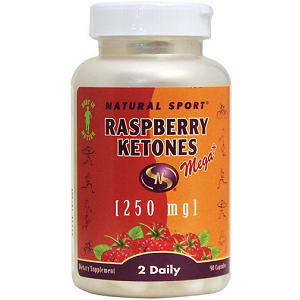 Natural Sport Raspberry Ketones Mega - Does It Work?-Review
What is Natural Sport Raspberry Ketones Mega?
This review is going to take a closer look at Natural Sport Raspberry Ketones Mega in order to learn more about how it works and to see whether or not it's worthwhile trying out. This supplement is made up of three key ingredients that are designed to help you lose weight.
Ingredients & How It Works
Raspberry Ketones - 250 mg

L-Phenylalanine - 100 mg

L-Tyrosine - 200 mg
Ketones are the element in red raspberries that give them their red color. Despite its name, this supplement is not derived from raspberries, rather, it is synthetically made because one kilogram of natural raspberries would cost around $20,000 and is equivalent to 90 pounds of raspberries. Raspberry Ketones are believed to aid in weight loss by increasing levels of adiponectin, which is a hormone that helps regulate your metabolism and helps your body burn fat faster. It is also believed to cause fat within cells to be broken down effectively which will help your body burn fat faster. L-Phenylalanine is necessary for your body's production of amino and tyrosine and can result in high levels of dopamine which can help you lose weight. L-Tyrosine turns into dopamine which can help improve your mood and suppress your appetite. It can also improve your thyroid function which regulates your metabolism.
Daily Serving
The manufacturer recommends taking two capsules daily, with water and preferably before a meal. You should not take this supplement if you are pregnant, nursing or taking a prescription MAO inhibitor.
The Cost
You can purchase this supplement from third-party retailers. We were able to find one 90 capsule bottle online for $10.85. There are no bulk purchasing packages offered but that can vary according to the third-party retailer you purchase from.
Guarantee
We were unable to find a manufacturer's guarantee. This is risky because it means that if you purchase this supplement and find that it doesn't work for you, you cannot get your money back from the manufacturer.
Our Review Summary Of Natural Sport Raspberry Ketones Mega
This Raspberry Ketones Mega appears to be a decent supplement that can potentially help you to lose weight. It comes in easy to take capsules for convenience and it is made up of three key ingredients that are designed to achieve an all-encompassing weight loss supplement. However, their dosage of Raspberry Ketones is significantly lower than most other Raspberry Ketones supplements we have seen on the market which leads us to question whether or not this supplement is potent enough to be effective. It appears that the manufacturer does not offer a guarantee. This is risky and it suggests that the manufacturer is not confident in its product's ability. We were also unable to find any consumer reviews on this product. This suggests to us that this supplement is not well-known or a popular choice and without consumer reviews, there is no way to know if this is a supplement that has had positive results for real people. You are better off choosing a Raspberry Ketone supplement that has effective ingredients, positive consumer reviews and one that is backed by a manufacturer's guarantee for consumer protection.
Well researched reviews, from the experts at Research & You.