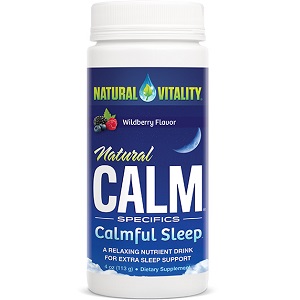 Natural Vitality Calmful Sleep - Does It Work?-Review
What is Natural Vitality Calmful Sleep?
This review is for a product called Calmful Sleep. Calmful Sleep is a nutrient-rich supplement designed for people who experience occasional sleeplessness and those who want to improve the quality of their sleep. Calmful Sleep contains natural ingredients that help promote restful sleep.
The manufacturer claims that this product is your answer to balancing calcium consumption; rebuilding healthy magnesium levels and getting the sleep you want to restore your natural strength.
Ingredients & How It Works
The list of ingredients in Calmful Sleep is as follows:
  Melatonin
  Magnesium
  GABA
  Suntheanine L-Theanine
Melatonin is a hormone formed by conarium, which is associated with regulating sleep and wake cycles in humans and animals. Products that are designed to promote sleep usually contain this compound. Melatonin has been added to Calmful Sleep to help your body relax into restful sleep. Magnesium is another powerful ingredient that helps balance your calcium intake, appease nerves, ease the muscles and provide support for various functions in your body. If your body lacks magnesium it is highly possible that you will experience headaches and sleeplessness. GABA and Suntheanine L-Theanine are sleep-promoting nutrients that have been added to give you a little extra help in getting enough rest.
The inactive ingredients in the product are Ionic Magnesium Citrate, Organic Wild Berry Flavor and Organic Stevia.
Daily Serving
Calmful Sleep comes in a powder form. The recommended dose for occasional sleeplessness is two teaspoons put in a mug, then add about 1 oz of hot water, stir until it dissolves then fill up the glass with warm water and drink. The best time to take it is before bedtime.
This product is meant for adult use only. People who are pregnant, breastfeeding and those who have an existing medical condition should not use this product without consulting with a physician.
The Cost
You can buy a 113g bottle of Calmful Sleep from the manufacturer's website at a cost of $17.50. You don't get charged for shipping if your order is over $23.00, which obligates you to buy something else in addition to your order of this product if you want free shipping. Unfortunately the manufacturer only accepts orders from the US and nowhere else. The manufacturer does not offer any discounts on their website.
Third-party retailers sell the product for a price between $10.50 and $13.65 for a 113g bottle and you get discounts if you buy more than one.
Guarantee
We could not find any information indicating money-back or satisfaction guarantee anywhere. This indicates the lack of manufacturer's confidence on their product. It also means that the customer is taking a risk, as they will not be refunded if they are unsatisfied with the product.
Our Review Summary of Natural Vitality Calmful Sleep
Natural Vitality Calmful Sleep contains clinically proven ingredients. Melatonin, which is included in this product, is specifically known for its ability to regulate sleep and wake cycles in human and animals.
However, we cannot confidently say that Calmful Sleep helps in promoting sleep to those who struggle to fall asleep. There are people who have benefited from it, and there are those who did not. We became very concerned when we realized that this product can also act as a stimulant. Many customer reviews on one of the major online retailers revealed that a number of customers who used the product could not fall asleep when they were taking it. It kept them awake and anxious the whole night. This is worrying because it does not make sense why a product designed to help with sleep would promote sleeplessness.
This probably explains why the manufacturer does not offer any guarantee on this product.  It is hard to trust a product that is not backed by the manufacturer's guarantee as it puts customers at risk.
We also noticed that you cannot buy this product if you live outside the US, which means that you are already excluded if you are not in the US.
Keeping these points into consideration, it is best to go for a product that is guaranteed by the manufacturer and one that has positive reviews.
Well researched reviews, from the experts at Research & You.