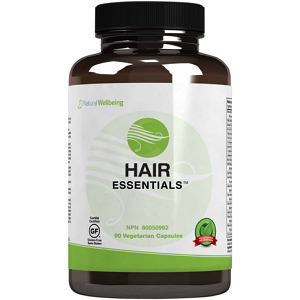 Natural Wellbeing Hair Essentials - Does It Work?-Review
What is Natural Wellbeing Hair Essentials?
Today we review Hair Essentials by Natural Wellbeing. Hair Essentials claim to brighten up the appearance of your hair and to improve the overall condition of each strand by targeting a hormone, DHT. This natural supplement claims to help you maintain normal levels of DHT within the hair follicles to ensure that you have beautiful, healthy hair. If you struggle with hair loss, breakage or dull hair then it might be worth it to look into this product and to read the rest of the review below.
Ingredients & How It Works
Vitamin A
Vitamin C
Vitamin E
Biotin
Iodine
Zinc
Selenium
Saw Palmetto Berry
Fo-Ti root
Bu Gu Zhi fruit
Han Lian Cao herb
Bamboo stem and leaf extract
Milk Thistle seed
Rice Bran
White Tea leaf extract
Borage Seed Oil
Flax Seed Oil
Black Pepper seed extract
MSM
L-Cysteine
L-Methionine
The ingredients used in this supplement help to improve circulation to the scalp thereby making sure that your hair gets the nutrients it needs. Han Lian Cao Herb helps to prevent premature graying of the hair, giving you a youthful look for longer. Bamboo helps to maintain connective tissue in the hair, improving the strength and the texture of each strand. The vitamins and minerals nourish the hair from the root out, ensuring that your hair stays healthy. Milk Thistle contain antioxidants and helps to repair and generate new cells. Flaxseed oil and Black pepper seed extract helps to moisturize the scalp and ensures the absorption of essential nutrients.
Daily Serving
It is advised that you take 3 capsules daily with meals. It is best to consult your doctor before taking this supplement if you are pregnant or nursing. If you experience adverse reactions when taking this product, discontinue use immediately.
The Cost
You can buy this product directly from the manufacturer's website. One bottle containing 90 veggie capsules will cost you $39.99. This price includes shipping costs. Unfortunately, we could not find any discounts or coupons relating to this product which is a shame, because it is quite expensive.
Guarantee
You have a 90-day guarantee if you purchase this product from the manufacturers. They will refund you if you have tried the product out for 30 days and you are not satisfied with the results. The manufacturers specifically ask that you try the product out for 30 days, because this supplement can take a while to work, so you will definitely not see immediate results. If they do refund you, you will not be charged with extra restocking fees, however, they will not reimburse you for shipping expenses.
Our Review Summary Of Hair Essentials
We like that this product contains only natural herbs and ingredients. We also like that you have up to 90 days to decide if you are satisfied with the product. However, we find this product quite expensive especially if you consider the fact that it can take up to 30 days to work. The lack of a discount on bulk orders is also very disappointing.
Well researched reviews, from the experts at Research & You.