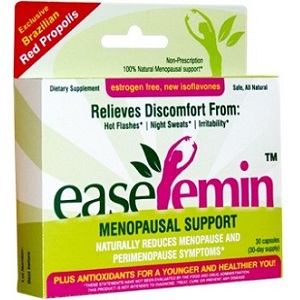 NaturaNectar Easefemin Menopausal Support - Does It Work?-Review
What is NaturaNectar Easefemin Menopausal Support?
This is a review of Easefemin Menopausal Support. This product claims to be a 100% natural, estrogen-free supplement that helps with the relief of irritability, night sweats and other symptoms associated with menopause. This product promises to be highly effective, without containing any artificial additives or preservatives. It also claims to fight free radicals and assist with bone support.
Ingredients & How It Works
Vitamin D3 (as Cholecalciferol)
Calcium (as Calcium carbonate)
Chamomile
Passionflower
Valerian (root)
Fermented soy Aglycone isoflavones
Bee Propolis
Cellulose (plant origin)
Silicon dioxide
While most of these ingredients come from natural sources, which may assist with some symptoms - upon further research we have found that this product contains silicon dioxide which is an artificial, chemical compound. This is concerning, considering that Easefemin Menopausal Support has been promoted as being a completely natural supplement. This product should not be used while breastfeeding or pregnant. And is not suitable for people with soy or bee allergies.
Daily Serving
It is suggested that you should take a dosage of one capsule at night, after meals, with a glass of water. The manufacturers suggest that you should take this product consistently for six-weeks before determining the effectiveness of this supplement.
The Cost
The current price of this product on the manufacturer's website is $30.99, only when purchased directly from their website or online partners. There is a 15% + free shipping discount available, only if you subscribe to their website. Easefemin Menopausal Support comes in one-month dosages (30 capsules). The price of this product is also much higher than similar supplements in the same category, working out to roughly just over $1 per capsule.  
Guarantee
Although this brand encourages queries relating to their product ranges, returns only apply to unopened boxes and are not offered if the product has been used or if the packaging has been opened. We could not find any other information on a satisfaction guarantee or return policy.
Our Review Summary Of Easefemin Menopausal Support
In this review of Easefemin Menopausal Support, we have found that this product does include natural ingredients for the relief of menopause symptoms. While researching this product we did come across a select few customers who claim that they had experienced some desired relief. However, it is unfortunate that we did have some concerns regarding the addition of an artificial compound, which makes us question their 100% natural promise.  With regards to their guarantee, which does not support any refunds after opening the product - some customers may seek out more affordable brands that do provide more comprehensive guarantees.
Well researched reviews, from the experts at Research & You.