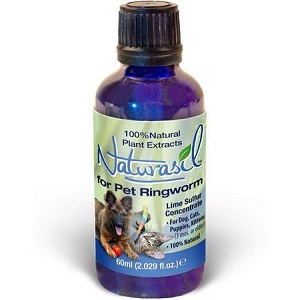 Naturasil Ringworm - Does It Work?-Review
What is Naturasil Ringworm?
Today we will review a natural ringworm remedy, manufactured by Naturasil. It is made from plant extracts and helps to eliminate ringworm. Read our review below about Naturasil Ringworm to find out how it works and if you should try it.
Ingredients & How It Works
Sulfur 6X HPUS
Cymbopogon Citratus Leaf Oil
Eucalyptus Leaf Oil
Jojoba Seed Oil
Lavender Oil
Melaleuca Alternifolia Leaf Oil
Patchouli Leaf Oil
Naturasil Ringworm contains one active ingredient, Sulfur 6X HPUS, which assist in relieving the symptoms of ringworm. The inactive ingredients contain antibacterial, anti-inflammatory, and anti-microbial properties as well as antiseptic and pain relief properties for dry itchy skin. Naturasil Ringworm contains extracts which are lipophilic and absorb deep into the skin where it penetrates the ringworm fungus. There is however no traces of 25% Undecylenic Acid, which is an essential anti-fungal agent.
Daily Serving
Clean the affected area with hydrogen peroxide before applying Naturasil Ringworm. The manufacturer then recommends applying the liquid to the affected area 2 to 3 times per day for 1 to 3 weeks. The period of time may differ depending on the severity of the outbreak. They claim that the symptoms of ringworm should clear up within 4 to 7 days after application.
Naturasil Ringworm comes in a 15 ml bottle in liquid form. An applicator in the form of a brush is also provided. One 15 ml bottle should last approximately 30 days, depending on usage.
The Cost
Naturasil Ringworm can be purchased online from the manufacturer's website for $24.95. It can also be purchased on Amazon for $16.48. This product is only sold in a 15 ml bottle. No discounts have been made available by the manufacturer and there are no bulk packages offered for purchase.
Guarantee
Naturasil offers a 90-day 100% money-back guarantee. The only requirement is that one must use the product as directed for at least 30-days. Only then may you return the bottle with any unused portion if you are unsatisfied. You will be reimbursed your full purchase price, excluding shipping costs.
Our Review Summary of Naturasil Ringworm
There are a few things to like about Naturasil Ringworm. It comes in a bottle with a brush for easy application. They also offer a 90-day 100% money-back guarantee on used products. There are however a few concerns that we have about the product. It lacks a powerful anti-fungal agent, Undecylenic Acid which is derived from castor oil. The most effective concentration is 25% thereof. The price of the product is also very low, which could indicate low quality ingredients or low quantities of each ingredient. There was no evidence found that Naturasil Ringworm was tested by a third party for purity. Another concern that we have is the reviews on Amazon which left customers unsatisfied with the results of the product. All these reasons may indicate low quality ingredients and lack of essential ingredients making it ineffective. These reasons lead us to not recommend Naturasil Ringworm for ringworm treatment.
Well researched reviews, from the experts at Research & You.