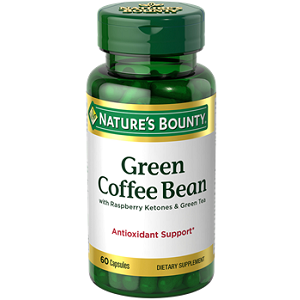 Nature's Bounty Green Coffee Bean - Does It Work?-Review
What is Nature's Bounty Green Coffee Bean?
This is a review of Nature's Bounty Green Coffee Bean, a supplement with Raspberry Ketones and Green Tea to help the body burn fat, combined with unroasted beans with chlorogenic acids, and packed with antioxidants to help individuals who wish to curb their appetite and shed some pounds.
Ingredients & How It Works
Primary Ingredients of the Proprietary Blend
Green Coffee Bean Extract (Coffea Arabica)  Standardized to contain 45% chlorogenic acid (472.5 mg) and 45% Polyphenols  (472.5 mg)

Raspberry Ketones

Green Tea Extract (Camellia Sinensis) (leaf) Standardized to contain 15% Polyphenols, 22.5 mg
Secondary Ingredients
Vegetable Cellulose

Gelatin

Contains less than two percent Silica, Vegetable Magnesium Stearate
This list contains no preservatives, sugar, starch, milk, lactose, soy, gluten, wheat yeast, fish, and it is sodium free.  Nature's Bounty Green Coffee Bean has approximately 150 mg of caffeine per serving. Unfortunately, we don't know exactly how much of each ingredient is contained in the proprietary blend.  But we do know that it contains only 45% chlorogenic acid where the recommended percentage for effective weight loss is 50%.  So this falls short.
The Daily Serving
The product label states to take three capsules in total each day, preferably before meals. There is a warning that states not to exceed taking more than three capsules per day.
This product is not intended for nursing or pregnant women.  Individuals who are taking medications or have a medical condition should consult their healthcare professional before using this product.  Individuals under the age of 18 should not take this product and it is not intended for individuals who are sensitive to caffeine.
The Cost
The manufacturer does not sell this product but points customers to find a retailer near them.  It is available for purchase on Amazon for $11.41 for a bottle of 60 capsules.  We were not able to find multi-packs available for purchase.
Guarantee
The manufacturer does not provide a satisfaction guarantee for the product.  It is surprising to us why they would not inspire consumer confidence in purchasing this product by standing behind it to allow consumers to buy it risk-free.
Our Review Summary of Nature's Bounty Green Coffee Bean
A vegetarian product that provides active ingredients with antioxidant properties, and which is made in the USA but not manufactured in a GMP laboratory, Nature's Bounty Green Coffee Bean is certainly a fair product for individuals who are hoping to lose weight.  Unfortunately, widespread research points to taking 1600 mg of Chlorogenic Acid a day and this product falls short of that amount which means that you are getting almost the right amount but not quite enough. Many customers commented on consumer reviews that they did not lose weight while using the product.
And this product is expensive:  a bottle of capsules will only get you through 20 days. Moreover, there is not a lot of information and background research about the effectiveness of this product on the manufacturer's website, making a pitch to consumers why they'd pick it, for example, over another product.  If the manufacturer provided more reassurance to customers about the effectiveness of the product, and a guarantee, it would surely encourage consumers to try it.
Well researched reviews, from the experts at Research & You.