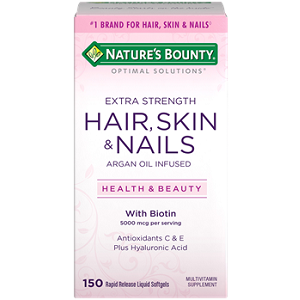 Nature's Bounty Optimal Solutions Extra Strength Hair, Skin & Nails - Does It Work?-Review
What Is Nature's Bounty Optimal Solutions Extra Strength Hair, Skin & Nails?
The following review of Extra Strength Hair,  Skin & Nails will take a detailed look at this product from Nature's Bounty Optimal Solutions. This product is specially formulated to help you achieve and maintain glossy hair, strong nails, and glowing skin. Hair, skin, and nails which are in poor condition is often a result of poor diet and stress. The manufacturers claim that their product could address these issues that means you could improve your looks from the inside out.
Ingredients & How It Works
   Vitamin A
   Vitamin C
   Vitamin D
   Vitamin E
   Thiamine
   Riboflavin
   Niacin
   Vitamin B6
   Folic Acid
   Vitamin B12
   Biotin
   Pantothenic Acid
   Iron
   Zinc
   Manganese
   Argan Oil
   PABA (Para-Aminobenzoic Acid)
   Choline Bitartrate
   Alpha Lipoic Acid
   Horsetail
   Hydrolyzed Collagen
   Hyaluronic Acid
   Soy Bean Oil
   Gelatin
   Vegetable Glycerin
   Soy Lecithin
   Carmine Color
   Mica
   Silica
   Titanium Dioxide
Although the ingredients included in this multivitamin are very beneficial for improving the appearance of your hair, skin, and nails we were rather concerned about certain ingredients. This multivitamin is not appropriate for individuals with soy, tree nut or yeast allergies. It also contains a variety of artificial ingredients.
Daily Serving
After thorough research, we discovered that the manufacturers of this product recommend that an adult take three soft gel capsules with a meal. We were a little concerned that this figure may be a little high. The side effects of consuming an overdose of certain vitamins and minerals could have serious consequences on your health. The negative effects of this high dosage may be compounded if all three soft gel capsules are taken simultaneously.
The Cost
Although you can not purchase this product directly from the manufacturer it is available in a variety of online stores. You can buy this product for $10.34 for 150 soft gel capsules. We believe that this is a reasonable price for the product which you receive.
Guarantee
Unfortunately, it appears that there are no guarantees available for the customer who purchases this product. When a product has a guarantee it indicates that the company respects their clients and has faith in their product. Sadly this does not seem to be the case here.
Our Review Summary of Extra Strength Hair, Skin & Nails
Once we reviewed this product we came to the conclusion that it could possibly improve the quality of your hair, skin, and nails, it contains many beneficial vitamins and minerals and is reasonably affordable. However, there were a few alarm bells that rang after closer inspection. This product contains more allergens than most other supplements and it is also recommended that you take a high dosage daily. This could potentially be very dangerous, especially for individuals who are not aware that they have an allergy. Additionally, this product does not even offer their customers a guarantee, which in our opinion is quite shocking.
Well researched reviews, from the experts at Research & You.