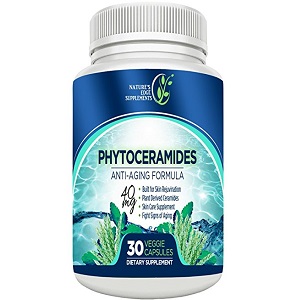 Nature's Edge Supplements Phytoceramides Anti-Aging Formula - Does It Work?-Review
What is Nature's Edge Supplement Phytoceramides Anti-aging Formula?
This is a review of Phytoceramides Anti-Aging Formula by Nature's Edge, a supplement enriched with ceramides to reduce the signs of aging.  As we get older, our body stops producing ceramides and we begin to fight increasing numbers of wrinkles and struggle with damage to our skin and overall dryness.
Ingredients & How it Works
Primary Ingredients
Vitamin A (as retinyl acetate) - 5000 IU

Vitamin C (as ascorbic acid) - 60 mg

Vitamin D (as ergocalciferol) - 400 IU

Vitamin E (as di-alpha tocopheryl) - 30 IU

Phytoceramides (From Rice) - 40 mg
Secondary Ingredients
Vegetable Cellulose (Veggie Cap)

Purified Water

Magnesium Stearate

Stearic Acid

Silicon Dioxide
Phytoceramides are plant-based lipids derived from ceramides which help hydrate the skin to reduce the effects of signs of aging.  However, this product extracts phytoceramides from rice rather than wheat which research shows is more widely preferred in fighting signs of aging. Moreover, this product does not provide the recommended percentage of daily phytoceramides; a daily intake of 350 mg of phytoceramides is required for optimal benefits.
This product is gluten-free.  It is unfortunate that the list of secondary ingredients contains fillers and binders rather than a more natural list of products.
Daily Serving
A serving size is one veggie capsule.  The instructions state to take one capsule of Phytoceramides Anti-Aging Formula once a day approximately 20-30 minutes before eating with 8 ounces of water. Users of this product should not exceed the recommended dosage.
Individuals who are pregnant, nursing, are under 18 years of age, or with a known medical condition are advised to consult their physician before using this product.
The Cost
One bottle of Phytoceramides Anti-Aging Formula comes with 30 capsules which costs $20.99 plus $4.95 for shipping. Shipping costs may be free when shipping multiple bottles, but we were unable to find a discounted price for purchasing multiple packs of this product.
Guarantee
Nature's Edge Supplements come with a 100% lifetime satisfaction guarantee, regardless of where you purchase the product. No information is listed about how to make the return and whether, in fact, this guarantee is honored by the manufacturer.
Our Review Summary Of Nature's Edge Supplement Phytoceramides Anti-Aging Formula
This product offers a solid approach for individuals who maintain a gluten-free diet who want to stop the signs of aging by taking a daily phytoceramide supplement.  However, the number of milligrams of phytoceramides (350/daily) is close to nine times less in this product (40 mg) than the amount that is required which makes it ineffectual as an anti-aging product. But perhaps more significant, widespread research shows that the best form of ceramides comes from wheat and not rice. Wheat extract oil contributes to the best results for anti-aging, and the results with rice or other common sources such as sweet potatoes just do not measure up.
We, therefore, were not surprised that we could not find any reviews of this product.  Our guess is that Phytoceramides Anti-Aging Formula is not being used widely to fight signs of aging. Specifically, we could only find it available for sale on one third-party website only, and with no reviews pointing to customers' experiences with this product, we guess that this will not be the number one pick in this line of products.
Well researched reviews, from the experts at Research & You.