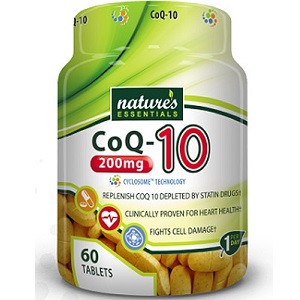 Nature's Essentials CoQ10 - Does It Work?-Review
What is Nature Essentials CoQ10 Product?
The below is an informative product review for Nature's Essentials CoQ10 that will bring you all the real facts. It is claimed by the manufacturer that this product will provide you with improved heart health, increased energy production, support immune system function, mitochondrial energy production, fight cell damage and further claims that it is also beneficial as a powerful antioxidant.
Ingredients & How It Works
Coenzyme Q10 is a well known vitamin-like substance that can naturally be found in the body and various different kinds of foods that we eat. This ingredient acts as an antioxidant, protects cells from damage and it also plays a key role in metabolism. Coenzyme Q10 is required for many correct functions and chemical reactions in the body and is, therefore, greatly beneficial for general health. Research does advise that this ingredient could cause a few side effects which include possible stomach upset, loss of appetite, nausea, vomiting, and diarrhea and that children should only use it under the supervision of a healthcare practitioner. It is somewhat concerning to see that this formula does not contain any BioPerine to aid absorption. 
Daily Serving
It is recommended by the manufacturer that a healthy adult should take one tablet daily and that it should preferably be taken with food. The provided cautions state that this product should be kept away from children and that you should first consult a healthcare practitioner if you are pregnant, nursing, using any medications or have any medical conditions. The dosage is relatively lower than what is offered by other leading manufacturers. Based on the low dosage, you may not see any measurable results.
The Cost
This product can be purchased online through the manufacturer's website. One bottle contains 60 servings, which translates as a two month supply if used according to the manufacturer's recommended dosage and it will cost you $48.99. Unfortunately, there are no suggested discounted options for this product which is disappointing especially because this is a rather expensive product.
Guarantee
The manufacturer does offer a money back guarantee for this product and advertise it as a quality guarantee although, it is very unusual that the details of this guarantee seem unavailable as the website does provide a link to access the details that unfortunately, does not seem to work.
Our Review Summary Of Nature's Essentials CoQ10
This product does seem ok at first glance because it does seem to have a manufacturer's guarantee, although the details for it are not available, and it does use a good active ingredient that could provide some positive health benefits. Unfortunately, it is concerning that the active ingredient used could cause a few unfortunate side effects according to research which implies that it is probably not a suitable option for everyone and there are also no customer reviews available on the manufacturer's website and therefore, this is probably not your best option. We suggest that you should rather consider a more suitable product available from leading and trusted brands that have proven to be effective because there is not sufficient evidence to prove that Nature's Essentials CoQ10 really is an effective product.
Well researched reviews, from the experts at Research & You.