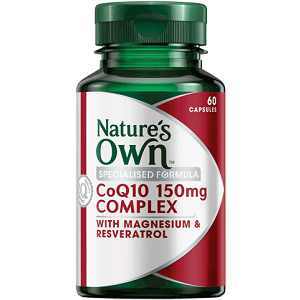 Nature's Own COQ10 Complex - Does It Work?-Review
What is Nature's Own COQ10 Complex?
The following review is for a product called Nature's Own CoQ10 Complex, which is a dietary supplement designed to help support cardiovascular health and energy production. The manufacturer states that this product also helps improve circulation.
Ingredients & How It Works
The active ingredients are:
Co-enzyme Q10
Magnesium
Fallopia japonica extract
Co-enzyme Q10 is a very vital compound that is found throughout every cell of the body. It is important for heart health, energy levels and muscle function. Our cells need CoQ10 to convert food into energy. CoQ10 protects the cells from damage and also helps the antioxidant vitamin E to stay active. It is helpful in maintaining healthy cholesterol levels, healthy muscle function, and boosting the body's immune system.
Magnesium, on the other hand, plays a big role in producing energy, by burning carbohydrates and fat. It also enables your body to store this energy in your cells. Fallopia japonica contributes in improving heart health and blood pressure.
Daily Serving
The recommended dosage is one capsule, taken daily with food, or as suggested by your healthcare practitioner. However, individuals who are on warfarin therapy should not take this supplement without medical advice.
The Cost
Nature's Own CoQ10 Complex is available online through pharmacies and retailers. The prices vary, so as the discounts offered by these outlets. For instance, one of the outlets sells 60 capsules for $26.99, which is a reduced price, from $39.99. Another one sells the same amount of capsules for $25.99, which is also a discounted price of $39.99. The product is also available in 30 capsules.
Guarantee
There is no information regarding a money-back guarantee on the manufacturer's website. This kind of information is usually shared on the website if the guarantee exists. Since we could not find any details, it is an indication that the guarantee is not offered.
Our Review Summary Of Nature's Own COQ10 Complex
Nature's Own CoQ10 appears to be a promising product. Unlike many CoQ10 products on the market, this product does not contain CoQ10 as the only active ingredient, but it has Magnesium and Fallopia Japonica extract to enhance its effectiveness.
We like that it does not contain yeast, starch, gluten, lactose, sugar, artificial colors or flavors, artificial sweeteners or preservatives, or dairy products because these ingredients are not suitable for some individuals.
Even though this supplement is not available for sale through the owner's website, it is available from various pharmacies and retailers online. These retailers offer discounts on it, which is good. However, it is very expensive compared to similar products despite the discount. It is even worse without the reduction.
We were very disappointed when we realized that there is no money-back guarantee for this supplement because it means that you are not protected as a customer. The absence of guarantee also indicates that the manufacturer does not have confidence in its effectiveness.
Furthermore, there are no consumer reviews of this supplement, which makes us worried because it is not ideal to buy a product with few or no consumer reviews. Therefore, we recommend that you rather look for a product that is covered by a guarantee, with consumer reviews and one that is less expensive. 
Well researched reviews, from the experts at Research & You.