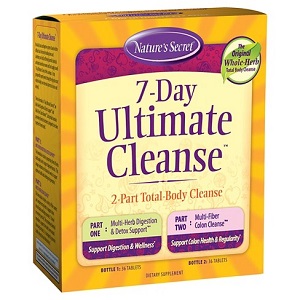 Nature's Secret 7-Day Ultimate Cleanse - Does It Work?-Review
Read our review below about 7-Day Ultimate Cleanse. The makers of this detoxifying product claim that their product, with its 2-part cleanse, is able to 1) support digestion and wellness, and 2) provide a multi-fiber colon cleanse that will support colon detoxification and promote 2 to 3 bowel movements daily.
Ingredients
Included in  the multi-herb digestion and detox support, are these ingredients:
Calcium (56 mg)
Lodine (13 mcg)
Alfalfa power
Fenugreek powder
Dandelion power
Fennel powder
Yarrow powder
Eleuthero extract
Green tea extract
Hawthorn powder
Horsetail powder
Licorice powder
Marshmallow powder
Peppermint powder
Red clover powder
Red raspberry powder
Safflower oil powder
Skullcap powder
Burdock powder
Chickweed powder
Mullein powder
Papaya powder
Black cohosh powder
Club moss powder
Ginger powder
Ginkgo extract
Irish moss powder
Kelp powder
Plantain powder
Slippery elm powder
Yellow dock powder
Milk thistle extract
Cayenne powder
Echinacea angustifolia powder.
The multi-fiber colon cleanse contains:
Calcium (98 mg)
Cascara sagrada powder
Fennel powder
Psyllium powder
Ginger powder
Acacia gum
Alfalfa powder
Apple pectin powder
Apple powder
Barley grass powder
Beet powder
Glucomannan
Karaya gum
Lemon peel powder
Oat bran powder
Peppermint powder
Red raspberry powder
Slippery elm powder
Chlorella powder
Guar gum
Lactobacillus acidophilus.
The capsule itself comprises:
Stearic acid
Hydroxypropyl cellulose
Microcrystalline cellulose
Silicon dioxide
Anise flavor
Croscarmellose sodium
Methyl cellulose
Magnesium stearate
Sodium starch glycolate
Soy polysaccharides
Glycerine.
Dosage
Both parts of this detox treatment should be taken together, daily. The manufacturer recommends: Day 1) Morning and evening: 1 tablet from each bottle. Day 2) Morning and evening: 2 tablets from each bottle. Days 3 to 7) Mornings and evenings: 3 tablets from each bottle. Do not exceed 12 tablets daily. If stools are loose, reduce 3 tablets to 2 tablets, both morning and evening. Have a 30-day break before repeating this treatment.
Possible Side Effects
This treatment should not be used by children or those who are pregnant, breastfeeding, allergic to shellfish or soy, or are taking another laxative, have intestinal obstruction, haemorrhoids, or other intestinal disorders. This product contains chemicals that can cause birth defects and other reproductive problems. Taking this treatment without water could lead to choking. This product could lead to electrolyte loss and dehydration. Long-term use could cause problems for the colon. The product contains cascara sagrada, which could cause diarrhea, loose stools, stomach pain. If the condition worsens, consult your doctor.
Price
7-Day Ultimate Cleanse is available online for $22.99 for a box containing two bottles of 36 tablets. Buyers spending over $50.00  receive 10% off. For a purchase of over $100.00 there is 15% off. Each purchase comes with a wellness kit, and $60.00 worth of product coupons.
Guarantee & Feedback
Despite our efforts, we were unable to find a manufacturer's guarantee. This could raise concerns on effectiveness of this treatment. However, our research did indicate that the reviews on this product are mostly positive, with 80% of reviews being high-quality reviews.
Our Conclusive Review On 7-Day Ultimate Cleanse
This colon treatment comes with good reviews. Purchasers of this 7-Day Ultimate Cleanse receive a wellness kit and a product coupon worth $60.00. There are also some risks. Firstly, the ingredients could be problematic for many people (allergies, not being vegan or vegetarian friendly, birth and reproduction defects, dehydration or choking). Secondly, in the long term, this product could negatively affect the colon.
Well researched reviews, from the experts at Research & You.