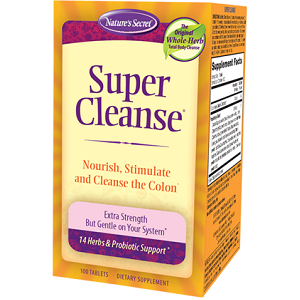 Nature's Secret Super Cleanse - Does It Work?-Review
What is Nature's Secret Super Cleanse?
This review is going to take a closer look at Nature's Secret Super Cleanse to learn more about how it works and to see if it is worth trying out. This product is a cleanse that is designed to help relieve constipation. The manufacturer claims that taking this cleanse will nourish, stimulate and cleanse your colon with a unique blend of fourteen herbs and probiotics that are formulated to promote deep internal cleansing.
Ingredients & How It Works
Proprietary Blend:
Cascara Sagrada powder (bark)

Fennel powder (seed)

Licorice powder (root)

Ginger powder (root)

Irish Moss powder (leaf)

Slippery Elm powder (bark)

Barberry powder (bark, root)

Cayenne powder (fruit)

Chlorella powder

Lactobacillus acidophilus

Marshmallow powder (root)

Red Raspberry Powder (leaf)

Triphala Powder (Amla powder)

Belleric Myrobalan powder (fruit)

Chebulic Myrobalan powder.
Inactive Ingredients: Microcrystalline cellulose, stearic acid, gum arabic, croscarmellose sodium, silicon dioxide, magnesium stearate, sodium carboxymethylcellulose, dextrin, dextrose, soy lecithin, sodium citrate. Contains dairy and soy.
Fennel powder relaxes the smooth muscle in your intestines in order to help relieve constipation. Licorice powder promotes peristalsis which is a process that forces waste that is in the large intestine through the gastric system. Ginger powder warms up your insides which makes stool easier to pass.
Daily Serving
Nature's Secret recommends adults starting with one tablet in the morning and another one in the evening. You can increase the intake by one tablet every other day until you achieve 2-3 formed bowel movements per day but do not exceed more than three tablets twice per day. When you find the effective amount of tablets that work for you, you can take this amount for thirty days but do not exceed past that. They advise drinking 8 to 10 glasses of water a day.
If you are under medical supervision, pregnant or nursing, consult with your doctor before taking this product.
The Cost
You can purchase one 100 tablet bottle on the manufacturer's website for $20.99. They do not offer bulk packages or discounts.
Guarantee
We were unable to find a manufacturer's guarantee.
Our Review Summary Of Nature's Secret Super Cleanse
This product appears to be a decent cleanse that can potentially help clear out your system and relieve constipation. It comes in easy to take tablets for convenience and is made up of a variety of ingredients that individually have been shown to have the ability to make it easier to achieve regular bowel movements. However, it appears that this product is not backed by a manufacturer's guarantee. This raises an immediate red flag and it suggests that the manufacturer is not confident in its product's abilities and puts the consumer at risk.
The consumer feedback we saw is mixed. Some consumers claimed that this cleanse helped them but many others reported that it caused them to experience adverse side effects that forced them to stop taking this cleanse immediately. Side effects include severe cramping, upset stomach, gas, bloating and flu-like symptoms. You are better off purchasing a cleanse that is backed by a strong manufacturer's guarantee for consumer protection and one that has positive consumer reviews.
Well researched reviews, from the experts at Research & You.