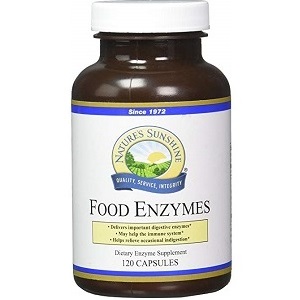 Nature's Sunshine Food Enzymes - Does It Work?-Review
What is Nature's Sunshine Food Enzymes?
Nature's Sunshine Food Enzymes is an irritable bowel syndrome (IBS) supplement that claims to provide important enzymes to improve digestion and offer relief from indigestion. This review will analyze everything from the formula to customer support, determining if this product is the best IBS solution for you.  
Ingredients & How It Works
Betaine HCl
Bile salt
Bromelain
Lipase
Alpha-amylase
Pancreatin
Papain
Pepsin
The ingredients above form a 940mg synergistic blend of enzymes that promote digestion by breaking down food and promoting nutrient absorption. These enzymes include Pepsin, which supports the pre-digestion of proteins; Betaine HCI, which creates an acidic environment in the stomach; and Pancreatin; which digests fats, carbohydrates, and proteins. These enzymes can support IBS and relieve associated symptoms like indigestion and irregular bowel movements. However, that said, the formula is missing other ingredients such as peppermint and aloe vera which soothe irritated bowels, reducing symptoms like pain and cramps as well as promoting long-term regulation of the digestive tract. These ingredients are often included in dual-action formulas as seen by competing brands on the market and may offer increased symptomatic relief for IBS when compared to this product.
Daily Serving
The manufacturer states that customers should take 1 capsule 3 times a day with food (likely breakfast, lunch, and dinner). Each capsule offers 940mg of the active ingredients and, although the exact concentration per ingredient is lacking, this should offer adequate digestive results. Although, it is likely that not all symptoms - such as pain and cramps - may subside.
The Cost
This product can be bought directly from the manufacturer's website. 1 bottle contains 120 capsules (lasting up to 2 months) and retails for $29.65. While this price may be competitive, customers should be aware that additional measures may need to be taken to relieve pain. This may come at an additional expenditure. There appear to be no bulk-buy deals available. The only discount offered is a 33% offer for members, which requires a $40+ purchase to apply.
Guarantee
Nature's Sunshine offers customers a 90-day guarantee for their products. While this may seem impressive, this guarantee only applies to products that have not been used, damaged, or discontinued. This revokes the consumers right to refund if they find the product unsatisfactory after testing; which is a concern as it questions the manufacturer's confidence in the product's efficacy. Upon further research, we found many negative customer reviews that complained that this product was ineffective while others noted negative side effects. This does not inspire much confidence in this product being a total-care solution.
Our Review Summary Of Nature's Sunshine Food Enzymes
This product contains many ingredients that may offer relief to certain IBS symptoms by promoting increased digestion. However, the lack of additional soothing ingredients as well as a dual action formula inhibits the total efficacy of this product by limiting the products pain-relief potential. This inability to soothe pain may require the support of additional products, which could increase the expected price paid. While there is a 90-day guarantee, it is limited and prevents customers the opportunity to test this product. These reasons, as well as many negative customer reviews, is why we do not recommend Nature's Sunshine Food Enzymes as the best IBS solution available. 
Well researched reviews, from the experts at Research & You.