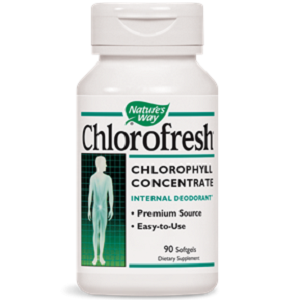 Nature's Way Chlorofresh - Does It Work?-Review
What is Nature's Way Chlorofresh?
This is a review of Nature's Way Chlorofresh, a concentrated chlorophyll complex from plants that reduce odors in the digestive tract.  Unfortunately, bad breath and body odors become chronic issues for some individuals struggling to find a way to either cover up the smells or find a more permanent solution to the issue at hand.  Chlorofresh advertises fighting odors from within the body, cleansing the body of odor-causing toxins.
Ingredients & How It Works
Primary Ingredients
Copper (from Chlorophyllin Copper Complex) - 4.5 mg

Sodium - 10 mg

Chlorophyllin (chlorophyllin Copper Complex from White Mulberry Leaf) - 100 mg
Secondary Ingredients
Soybean Oil

Gelatin

Glycerin

Yellow Beeswax

Purified Water

Soy Lecithin
Chlorophyllin is found in green plants.  Since it is more easily absorbed into the body, Chlorophyllin reduces these malodors by absorbing the odor-causing compounds and removing them through bowel movements, effectively neutralizing them before they can be secreted. Chlorophyllin is believed to help cleanse the body of odor-causing bacteria and toxins by cleansing the toxins in the bloodstream.
Note that this is not a vegetarian nor vegan capsule as it contains gelatin. The product contains soy which needs to be noted if you are allergic to it.
Daily Serving
The product label states that Chlorofresh may be taken by adults and children 12 and over as follows:  two soft gels 1-2 times a day.  If odors persist, another so softgels may be taken for a maximum of 6 softgels per day.  Children under the age of 12, pregnant or nursing women should consult with their healthcare professional before using this product.
There is a caution on the label which recommends reducing the dosage if you experience cramps or diarrhea.  If the symptoms continue, it is recommended to be in touch with your healthcare professional.
The Cost
The manufacturer's website points to different places to purchase this product, both online and brick and mortar storefronts.  A bottle of 90 softgels can be purchased for $9.07; we see that Amazon no longer has this product available on their website and we were not able to find any options for bulk purchasing options or discounts.
Guarantee
The manufacturer does not offer any satisfaction guarantee at all. However, it may be possible to return this product to a third party retailer depending on their specific return policies.
Our Review Summary Of Nature's Way Chlorofresh
Nature's Way has manufactured Chlorofresh to function as an internal deodorant for individuals who are suffering from both unpleasant breath and body odors.  The product, however, appears to be forgotten about we could not find a large number of online sites still carrying the product. Moreover, the manufacturer has failed to provide any type of explanation and justification for the makeup of the product - explaining the function of the ingredients, and how they work internally to fight off the malodors.  Perhaps more importantly though, the customer reviews are not positive with reviewers sharing that the bottom line for them is that they did not see any improvement at all while using Chlorofresh. And without a manufacturer valuing the concept of a money back guarantee, buyers will likely want to go to look at other products on the market with chlorophyll as well as other ingredients not included in this supplement.
Well researched reviews, from the experts at Research & You.