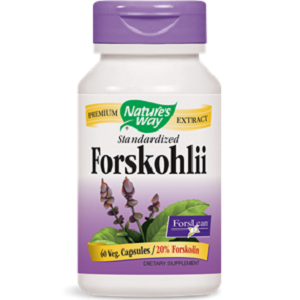 Nature's Way Forskohlii - Does It Work?-Review
What is Nature's Way Forskohlii?
Nature's Way has developed a premium dietary supplement containing Forskohlii root extract that they label as Forslean. This review looks at Nature's Way Forskohlii Standardized dietary supplement capsules. Forskolin is a plant derivative. The chemical compounds are taken from the root to activate cells and enzymes affecting hormones and pituitary glands and is a proposed weight loss factor. Forskohlii is a supplement to manage weight loss the herbal way. They claim that it promotes fat loss, slimming and a leaner body mass. It is totally vegetarian with no additives or preservatives. Nature's Way products use ingredients sourced globally and are produced to the highest quality. Use of their supplements is based on traditional homeopathic practices.
Ingredients & How It Works
ForsLean (Coleus forskohlii) Root Extract standardized to 20% forskolin (25 mg)
Coleus forskohlii Root Extract standardized to 1% forskolin (1.25 mg)
Cellulose
Plant-derived capsule (hypromellose)
Magnesium stearate
Silica
The capsules do not contain any artificial coloring, flavoring, preservatives, soy, wheat, yeast, dairy, corn or sugar. Coleus forskohlii is of the Plectranthus family from whose roots they derive the chemical Forskolin.  This, as a traditional medicine, is said to regulate insulin and blood sugars and promote thyroid activity which all aids in weight control.
Daily Serving
This is presented in Veg Capsules. Take one capsule two times a day. Best taken prior to meals. People on medication, pregnant or nursing should first consult a doctor before taking Forskohlii. There is no mention of how long one should take the capsules for or that it should be used in conjunction with any type of lifestyle habits.
The Cost
One bottle contains 60 Veg Capsules.
The stock is not obtainable off their website, but they give several suggestions on where it can be bought from. Forskohlii retails between $17.50 and $26.64 depending on which online supplier you buy from. There don't seem to be any discounts for bulk purchasing available.
Guarantee
We could not find any manufacturer's guarantee, money back offers or returns of any kind, which is concerning as guarantees offer a confidence factor, and clients may risk losing their money.
They claim to have 750 people that recommend this product. However, there are no customer comments on how effective the product is or their outcomes from regular usage.
Our Review Summary Of Nature's Way Forskohlii
We like the fact that this is a vegetarian supplement and that it contains very few ingredients – only those that are necessary. They have a great many people that have clicked their recommend button, however, their comments have not been included on the website. The site is very sparse with little enlightening information. They claim to be one of the initial brands to be TRU-ID certified using DNA Biotechnology ensuring authentic herbal products. This may be a good product, but we are unimpressed with the presentation of Forskohlii Standardized, in that there are very few claims of what the product can do, no reason why we should take their product over competitors' or why take it at all, no direct contact numbers, no prices or special offers, no guarantees of the product. We leave this site uninspired.
Well researched reviews, from the experts at Research & You.