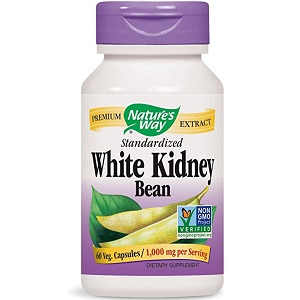 Nature's Way Premium Extract Standardized White Kidney Bean - Does It Work?-Review
What is Nature's Way Premium Extract Standardized White Kidney Bean?
The following is a review about Premium Extract Standardized White Kidney Bean. It is claimed by the makers of this supplement that it is useful for weight management. This as this supplement slows the absorption of carbohydrates and starches. If not, then these would have been broken down by the alpha amylase enzyme, coming from the pancreas, before transforming to glucose. Glucose is then stored as either fat or used as energy.
Ingredients & How It Works
For two capsules, the ingredients are:
White Kidney Bean Extract (1000 mg) – This active ingredient element has been publicized to be active in weight loss, as well as weight management.
Additional inactive ingredients include in this formula are plant-derived capsule, cellulose, and sodium (40 mg).
Although this supplement is free from artificial coloring and flavoring, corn, gluten, dairy, preservatives, soy, sugar, wheat, and yeast, it does contain sodium. Sodium adds no advantage to weight loss. In actual fact, not only is additional salt damaging for the heart, it could also lead to weight gain. Salt is, nonetheless, purely added as a preserving agent.
Daily Serving
Those that are pregnant or on prescription medication should first speak to their health care provider before taking this treatment. This treatment is not suitable for children, but it is safe for vegans or vegetarians. In addition, it is recommend by the manufacturer that 2 capsules be taken twice daily before meals, injunction with 8 ounces of water.
The Cost
A month's supply, of 30 capsules, sells at $10.99. No discounts are available for bulk purchases of Premium Extract Standardized White Kidney Bean. However, the advertised price is a discounted price with a saving of 45% off the original price of $19.00. That said, 30 capsules are not enough for a full month's treatment if you follow the dosage recommendations of the manufacturer.
Guarantee
Our research was unable to locate a manufacturer's guarantee or a return policy. This raises questions about how effective the product is.
Our Review Summary Of Premium Extract Standardized White Kidney Bean
This product might be good to maintain a healthy weight or to lose weight, as the formula consists of known weight loss ingredients. More so, the customer reviews are positive about Premium Extract Standardized White Kidney Bean. On the down side, the ingredients are problematic, particularly the inclusion of sodium (10 mg per capsule). This as too much sodium could lead to hypertension, heart diseases and even a larger waistline. What is more, there are not a free trial for this supplement, or a manufacturer's guarantee or return policy are not available. With all of that, and with some many similar weight loss and weight management treatments available currently, most offering similar benefits, and without sodium and have a manufacturer's guarantee – a better option would to go for one to those instead of this dietary supplement.
Well researched reviews, from the experts at Research & You.