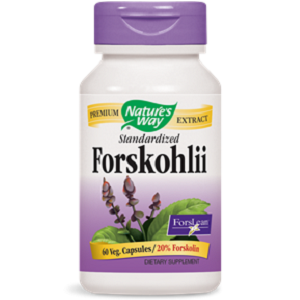 Nature's Way Standardized Forskohlii - Does It Work?-Review
What is Nature's Way Standardized Forskohlii?
Standardized Forskohlii is another weight loss supplement in an already saturated market. This product claims to be a healthy weight loss supplement using all-natural ingredients. These points are important, as these are among the important criteria customers look for when shopping in such a competitive market. However, other points are just as important. Money-back guarantees, easy to navigate websites and manufacturer transparency are just a few of the other points that customers take into account when shopping for weight loss supplements. Can Nature's Way Standardized Forskohlii meet these criteria? Read our review below to find out.
Ingredients & How it Works
The formula is made up of ingredients proven in many studies to have weight loss effects. In particular, the formula is designed to break down stored fats and prevent the accumulation of further fats. This boosts the metabolism and greatly facilitates weight loss.
ForsLean (coleus forskohlii) Root Extract standardized to 20% forskolin (25mg) - 125mg
Coleus Forskohlii Root Extract standardized to 1% forskolin (1.25mg) - 125mg
Other ingredients include: cellulose, plant derived capsule (hypromellose), magnesium stearate, and silica.
Daily Dosage
The manufacturer recommends taking one capsule twice a day. The best results are usually obtained when the supplements are consumed before meals. The website further advises that pregnant women, nursing women, and individuals on prescription medication should avoid Standardized Forskohlii before consulting a medical professional. In fact, it is best to speak with your doctor before taking any weight loss supplement.
The Cost
The product is not for sale on the manufacturer's website. However, the store locator will point you to a nearby brick and mortar store as well as to a number of online retailers such as Amazon, Lucky Vitamin, Vitacost and Swanson. At the time of this review, you could purchase a 60-count bottle for $16.26.
Guarantee
As Standardized Forskohlii is not sold through the website but rather through various local and online retailers, Nature's Way does not offer any money-back guarantee on the website.
Our Review Summary of Standardized Forskohlii
Nature's Way Standardized Forskohlii is very similar to other forskolin based weight loss supplements in terms of product claims and evidence supporting said claims. A point in its favor, however, is the fact that the product is sold at local retailers over the counter as well as through online services like Amazon. Furthermore, while its formula is more or less identical to the competition, it is still a formula that should work.
That being said, however, there are a few issues of concern. First, the fact that it is sold through Amazon and local retailers means that there isn't any manufacturer-backed return/refund policy. This is concerning, as the lack of a guarantee can indicate a lack of confidence in a weight loss supplement. Furthermore, the website doesn't have any customer reviews and, in fact, is light on details about the product in general. This sort of opaque business model indicates that the company may not be as reliable as more transparent companies. For many customers, this could be a deal breaker on an otherwise seemingly good product, as could the mixed customer reviews on Amazon.com.
Well researched reviews, from the experts at Research & You.