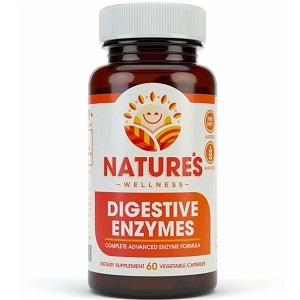 Nature's Wellness Digestive Enzymes - Does It Work?-Review
What is Nature's Wellness Digestive Enzymes?
In this review of Nature's Wellness Digestive Enzyme, we see how these digestive enzymes are a dietary supplement which aims to give support to the digestive system by supporting the functions of the metabolism, aiding nutrient absorption while reducing or eliminating the symptoms experienced by Irritable Bowel Syndrome such as bloating, constipation, gas, and indigestion. Enzymes are proteins which accelerate chemical reactions in the metabolism, and Nature's Wellness has claimed to be a manufactured blend of vital enzymes to strengthen the digestive system.
Ingredients & How It Works
Protease
Protease 2
Aspergillopepsin
Amylase
Lipase
Cellulase
Lactase
Bromelain
Papain
Peptidase
Glucoamylase
Invertase
Alpha Galactosidase
Beta-Glucanase
Pectinase
Xylanase
Phytase
Hemicellulase
Maltodextrin
Medium Chain Triglycerides
The selection of enzymes mostly assists the digestive system with breaking down of every type of food ranging from proteins to fats, while Hemicellulase restores the balance of flora (good bacteria) that grows inside the intestines, medium chain triglycerides boost absorption while Bromelain promotes the health of the colon. We wonder why supporting ingredients such as aloe vera, peppermint or ginger are not added as they are known for their pain and nausea relieving properties.
An allergen warning is mentioned for those allergic to wheat, soy, and dairy.
Daily Serving
The daily intake one should not exceed 6 capsules per day, and that capsules must be taken once or twice at the start of each meal or as instructed by a doctor. The number of capsules or frequency is not specified.
The Cost
A bottle containing 60 vegetable capsules is available for online purchase at $17.85 per bottle. There are discounts, however, they are calculated before tax. A month's subscription including 1 bottle costs $17.18, while 3 months subscription including 3 bottles totals to $48.70. We have found hidden costs in subscriptions and would advise against them.
Guarantee
A refund which excludes shipping fees is only applicable to the first purchase (bottle) of the product, whereas other purchases may be returned within 60 days, as long as it is sealed in the original packaging and given with the receipt or proof of purchase. It will then be inspected and the refund will be initiated should the product be approved.
Our Review Summary Of Nature's Wellness Digestive Enzymes
Nature's Wellness Digestive Enzymes contain a variety of enzymes which may support the digestive system with its absorption of nutrients including overall health and function of the intestines and colon. Furthermore, there are few customer reviews, and although they are positive, we cannot recommend a product that does not have many successful histories. Another consideration is that the amount of enzymes per serving stated in the Nutritional Value label is unlike the measurements of dietary supplements given in milligrams. The measurement stated on the label is, in fact, the enzymes actual potency. Inside a laboratory, the enzyme's potency is noted from an observation of it's reaction to a measured amount of olive oil (for example) in a temperature and ph-regulated environment. It is therefore unclear if the product dosage can be applied to every individual as different digestive systems have different ph (acidity) levels which are scientifically proven to greatly impact the potency of the product. Another issue is the use of Maltodextrin which is a filler added to supplements which have no nutritional value. This ingredient may hinder the desired results.
Well researched reviews, from the experts at Research & You.