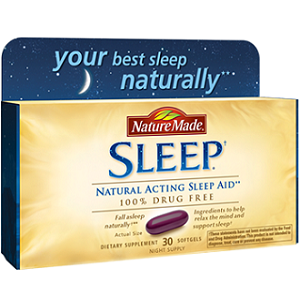 Nature Made Sleep - Does It Work?-Review
What is Nature Made Sleep?
Nature Made Sleep claims to be a natural acting sleep aid that helps you fall asleep, however, can it offer a total care solution for those suffering from jet lag and its associated symptoms? This review will examine this product's various aspects, from ingredients to customer support, to help you decide if this is the jet lag solution for you.
Ingredients & How It Works
L-theanine - 200mg
Melatonin - 3mg
The product formula contains L-theanine as one of its active ingredients, an amino acid that is known to support jet lag by relaxing the mind and reducing anxiety while promoting sleep. Melatonin is also included in this formula to promote sleep. While these ingredients are popular in other jet lag products on the market, the lack of a dual-action formula likely impacts the effectiveness as sleep-inducing melatonin may inhibit the performance of people with jet lag during the day when they may not have the opportunity to sleep. This is where ingredients like stress-relieving L-ornithine or energy-boosting Ashwagandha may offer better support. In saying so, the lack of these ingredients will definitely make this product less effective than competing brands on the market. There is no indication if this product was manufactured in a GMP certified facility which may imply quality was not a priority during the production process. Furthermore, this product contains soy and may be an allergenic risk for some customers.
Daily Serving
As a dietary supplement, take 1 softgel 1 hour before bed with water. It is recommended that the daily dose of 1 capsule is not exceeded. There is an adequate concentration of the key active ingredients, which is comforting to note. However, the lack of supportive ingredients in a dual-action formula does limit this product's efficacy in comparison to market leaders. This product contains melatonin and causes drowsiness, do not drive or operate heavy machinery after consuming the softgel. Pregnant and breastfeeding mothers should consult a doctor before use and if sleep issues persist, we advise seeking council with a medical practitioner.
The Cost
It is unfortunate to note that this product cannot be bought from the manufacturer's website; only from a selection of third-party sites. With each site comes varying prices for the box of supplements (containing 30 softgels per unit) that range from  $11,89 and $26,44 per box. On top of searching for the best price available, each third-party site has different availabilities for the product which may increase the research time needed to find the best value for this product. There appears to be a package deal available for a double pack (60 softgels) unit. These prices also differ per site, starting from $23,99 upwards.
Guarantee
Nature Made claims to offer a 100% money-back guarantee, however, they provide no supportive information as to the applicable time period of this offer or terms of product use. This is very vague and is a risk for customers wanting to test this product as their refund is not guaranteed. Furthermore, there is a surplus of negative customer reviews complaining of product inefficacy. This doesn't inspire much confidence in this product being a smart purchase choice.
Our Review Summary Of Nature Made Sleep
It is positive to note that this product contains active ingredients that are not only adequately dosed but are known to offer relief to some jet lag symptoms. However, that being said, the lack of other key ingredients such as L-ornithine and Ashwagandha inhibit its potential effectiveness. Furthermore, the lack of a dual-action formula prevents this product from offering a total-care solution. While the price may be affordable on some third-party sites, it may require time and effort to find the best value as well as the availability of this product. Although the manufacturer claims to offer a 100% guarantee, there is no additional information to substantiate these claims. These reasons, combined with many negative customer reviews, support our decision to not recommend Nature Made Sleep as the best jet lag solution available on the market. 
Well researched reviews, from the experts at Research & You.