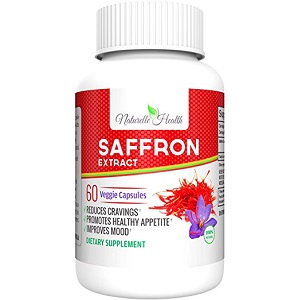 Naturelle Health All Natural Pure Saffron Extract - Does It Work?-Review
What is Naturelle Health All Natural Pure Saffron?
Naturelle Health All Natural Pure Saffron is a capsule supplement which is designed as an addition to a healthy diet and lifestyle to aid weight loss and improve general health. Saffron has been used for centuries as a traditional medicine to treat all kinds of illnesses. More recently it has been scientifically studied and shown that saffron does present certain health effects such as mood stability and improved weight loss. We look at Naturelle Health All Natural Pure Saffron in this review to determine if it is the best available saffron supplement.
Ingredients & How It Works
The only active ingredient present in this product is saffron extract. The capsule is made out of vegetable cellulose and it is packed with rice flour, making it completely suitable for vegetarians and vegans. Saffron contains a variety of active substances which can have biological effects in the body. The most obvious of these are the vitamins and minerals. Saffron is high in levels of manganese, vitamin C, magnesium, iron, potassium and vitamin B6. Each of these components has a vital function in processes like immunity, brain function and oxygen transport in the blood.
Moreover, it has been shown scientifically that saffron extract significantly increases the levels of a neurotransmitter, called serotonin, in the body. Low levels of serotonin have been associated with depression so serotonin is now known to be important for stabilizing mood. Apart from this it also suppresses hunger and the mood stabilizing effect decreases the urge to comfort eat.
Daily Serving
One capsule must be taken twice a day. For the best absorption it is recommended that the capsule is taken 20 to 30 minutes before a meal. Each capsule contains 88.5 mg of Pure Saffron extract which results in a daily serving of 177 mg. The optimal dose according to our research is actually 400mg so the supplement does provide a slightly lower dose.
The Cost
One package which contains 60 capsules can be bought online for $42.00. Since this product requires long-term use to see the benefits, it is unfortunate that Naturelle Health does not offer a discount for buying in bulk.
Guarantee
There appears to be some evidence of a guarantee but it is not specifically described in the information provided by the manufacturer. Therefore, it is uncertain how long the guarantee is valid for and if it counts for products being already opened.
Our Review Summary Of Naturelle Health All Natural Pure Saffron
This product is pretty standard as far as saffron supplements go. Many products provide a similar dose of saffron at the same price. The price is quite reasonable but compared to other products which provide a higher dose, the value of Naturelle Health All Natural Pure Saffron is quite weak.
The lack of information about the guarantee that they allegedly offer is also quite concerning. From our analysis of the customer reviews we also found that a third of customers are not completely satisfied with this product and many complain that it is largely unavailable. 
Well researched reviews, from the experts at Research & You.