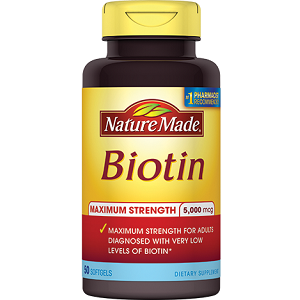 NatureMade Biotin - Does It Work?-Review
What is NatureMade Biotin?
Today we review the Biotin supplement provided by NatureMade, which they claim is the best brand of vitamin and supplement suppliers as recommended by pharmacists. They claim that this product provides the maximum strength that is required by adults and is especially intended for people whose biotin levels are very low - as established by medical practitioners. Biotin is a B vitamin that is soluble in water that aids in rebuilding tissues, protect the nervous system, and acts as a muscle strengthener and anti-inflammatory. They claim that it assists in metabolizing fats, carbohydrates, and proteins. They suggest that it could support the health of nails, skin, and hair for those whose bodies have insufficient biotin. They claim that their standards are of the highest quality.
Ingredients & How It Works
Biotin ( Vitamin B7)
Soybean Oil
Gelatin
Glycerin
Yellow Beeswax
Water
Soy Lecithin
Colors - including Carmine (deep red coloring)
There are no preservatives, gluten, starch or yeast. Their color dyes are not synthetic and have been adopted from natural origins.
Soybean oil is a vegetable extract that can improve heart, cholesterol and immune health as well as improving skin health. Gelatin, apart from being a coagulant, also aids digestion and improves the health of your skin. Glycerin aids digestion nourishes skin and hair. Yellow beeswax lowers cholesterol, acts as an anti-inflammatory and is a natural moisturizer. Soy lecithin, also a soybean extract, breaks down fat and lowers cholesterol.
Daily Serving
1 Liquid Softgel should be taken daily, by adults only.
It can be taken at any time, as long as it is consumed with a meal. To make the digestion of the softgel easier, their recommendation is to drink water before and whilst swallowing. Each Softgel contains 5000 mcg strength of Biotin.
They are very clear about cautioning people combining prescription medicine and supplements that it could diminish the effectiveness and absorption of either the supplement or drugs.
A health practitioner should be consulted before using the product.
The daily dose should not be exceeded.
The Cost
The bottles come in servings of 50 or 120.
They can be purchased online from $8.89 for 50 or $14.42 for 120 from various websites, but not off their own website.
Guarantee
As a corporate policy, they offer a guarantee of your money back with no further questions asked, if you are not entirely satisfied, however, they do not stipulate what condition the product should be returned in and how long you have in which to return the product. They do not have any customer reviews on their website, so we are unsure of what their market thinks.
Our Review Summary Of Nature Made Biotin
We appreciate that this product has been verified by a third party and has been in the industry for 40 years. It is especially recommended for people with biotin deficiencies. Their website is user-friendly and informative. Much like most leading brands, clinical trials have been undertaken for their products which are all scientifically researched, however, their maximum strength biotin is only 5000 mcg whereas some other leading brand products offer a maximum of 10 000 mcg. As far as we could determine there are no options for discounts or bulk purchases and the manufacturer's guarantee is vague and provides no information on the time frame or in what condition the product should be returned in. Without any consumer reviews from trusted sources, we are unable to determine if this product has been effective for the majority of its users.  It may be in your best interest to look for alternative products that have a substantial amount of feedback, offer discounts, a higher dosage and clear information on their guarantee policy.
Well researched reviews, from the experts at Research & You.