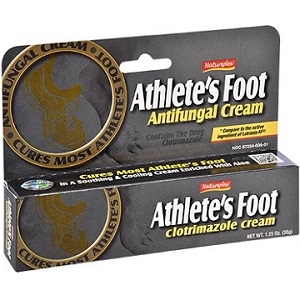 Natureplex Athlete's Foot Antifungal Cream - Does It Work?-Review
What is Natureplex Athlete's Foot Antifungal Cream?
This product is advertised as a holistic method to provide instant relief from symptoms associated with athletes foot such as discomfort, itching, and burning. This product is said to be a cure for fungal infections and the formulation is grease free, odorless and does not stain your clothes. In this review of Natureplex Athlete's Foot Antifungal Cream, we look at the facts to see if this manufacturer lives up to its claims.
Ingredients & How It Works
Clotrimazole is an antifungal ingredient which is used in most OTC products and while it may provide some symptomatic relief over a short period of time, it does not target the infection at the source. Aloe is used as a soothing agent which helps to relieve pain and irritation. We were disappointed to find that there are no supporting ingredients such as Tea Tree Oil and Undecylenic Acid which has been proven to inhibit the growth and spread of the fungus.
Daily Serving
Natureplex recommends using the cream in the mornings and evenings. A thin layer of the product should be applied to the affected area once it has been cleaned and dried. Since there is only 1% Clotrimazol in this formula, applying the cream twice a day does not seem to be potent enough to deliver measurable results. The cream may also rub off before being fully absorbed. According to research, antifungal creams should be applied at least 4 times a day to get relief from Athlete's foot.
The Cost
Athlete's Foot Antifungal Cream retails for about $6.00 to $13.00 for a 1.25oz tube depending on where you purchase the product from online. Since the manufacturer does not sell this product directly, you may find discounted prices and package purchases from the third party retailers. You would need to do a price comparison in order to get the best deal.
Guarantee
Natureplex advertises that their products come with a no questions asked satisfaction guarantee however they have not clarified how long it is valid for and if it applies to products that have been opened already. This guarantee policy is not very transparent and we feel that consumers may be at the risk of losing money without having the facts presented to them upfront.
Our Review Summary Of Natureplex Athlete's Foot Antifungal Cream
While we can appreciate that this product is reasonably priced and that it is easy to source from third-party retailers, we are still skeptical as to whether or not this product is, in fact, a cure. The formula has no groundbreaking ingredients that have proven to eliminate the infection entirely, it also does not show any evidence that it prevents the fungal infection from returning. Finding information on this product was difficult as the facts are not presented immediately on the product page. The consumer feedback was very limited and has not provided enough evidence to prove that this product has treated an abundance of athletes foot cases. Based on the manufacturer's guarantee, we also feel that this may be a risky purchase as the manufacturer has not made any important details clear. 
Well researched reviews, from the experts at Research & You.