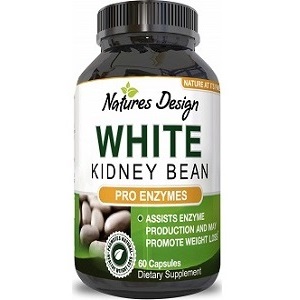 Natures Design White Kidney Bean - Does It Work?-Review
What Is Natures Design White Kidney Bean?
In this review, we will be looking at a product from Natures Design called White Kidney Bean. White kidney bean extract works as a carb blocker. If you take a supplement like this, it helps your body to digest carbohydrates without storing any of these carbs as fat in your body. It works by blocking the amylase digestive enzyme in your body that converts carbs into sugars. Additionally, the manufacturer of this product claims that this product could help you lose more weight due to its appetite suppressing capabilities.
Ingredients & How It Works
White Kidney Bean Extract
Cellulose
Rice Flour
Magnesium Stearate
At first, when we looked at the ingredients included in this formula, we were rather impressed. There is only one active ingredient included in this formula. Additionally, this product is suitable for vegans and vegetarians to use, since it does not contain any animal products. However, we were rather alarmed by a large number of additional ingredients that have been included in this supplement. These ingredients act as additives, preservatives, fillers or binders.
Daily Serving
Unfortunately, we were unable to find any information regarding the recommended dosage for this product. The manufacturer does state that a serving size is two capsules. Regrettably, they provide no further information so we are not sure if you should be taking this supplement with a meal or not. This is concerning because the ingredients could damage your digestive system. The contents of your stomach may also influence your body's ability to absorb the nutrients.
The Cost
Unfortunately, this product is not available on the manufacturer's website. However, you will be able to find this product in a variety of third-party stores. One bottle of this dietary supplement is available for $10.77. Sadly, there are no special offers or discounts available for this product and you will probably have to pay extra for shipping.
Guarantee
Sadly, we could not find any information on guarantees for this product. This indicates that the manufacturer is not entirely confident with their product. Companies who offer guarantees are sure that their products serve their intended use and are thus not afraid to refund people who are not entirely satisfied with their product.
Our Review Summary of Natures Design White Kidney Bean
After we finished our review for this product, we found that it could be an effective solution for individuals who want to include a dietary supplement into their weight loss program that will support their weight loss journey. It only contains one active ingredient and it is available for quite a reasonable price from a variety of third-party sellers. However, we are not sure if we would recommend this product to anyone due to a few issues we uncovered. This product contains a variety of additional ingredients that are not necessary. Additionally, the manufacturer does not provide sufficient instructions for the use of this product. Finally, we were alarmed to discover that the manufacturer does not provide any guarantees for their customers.
Well researched reviews, from the experts at Research & You.