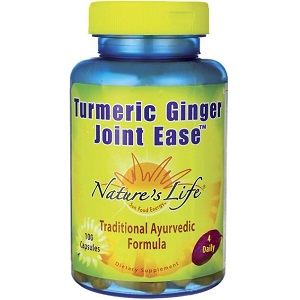 Natures Life Turmeric Ginger Joint Ease - Does It Work?-Review
What is Natures Life Turmeric Ginger Joint Ease?
The following review is for the dietary supplement product called Turmeric Ginger Joint Ease. The maker of this product, Nature's Life, claims that this supplement will support healthy joint function as well as to provide normal flexibility and mobility. Read our review for more.
Ingredients & How It Works
Four (4) capsules provide:
Turmeric (Curcuma longa, root extract, supplying 1200 mg [95%] curcumins, 1.3 g)
Ginger (Zingiber officinale, root extract, 4:1, 1.3 g)
Other ingredients: gelatin (capsule), silica and magnesium stearate.
Turmeric health benefits are well recorded: from assisting with inflammation control, heart and brain health, as well as gut and intestine health benefits. The compound ginger offers inflammatory and antioxidant properties. Even though this product contains two key ingredients that are known to offer optimal joint health benefits, it does lack many of the other 13 substances such as l-glutamic acid, l-cysteine, rutin, holy basil, white willow, glucosamine, MSM, chondroitin, or even boswellia. More so, this product is not suitable for vegans or vegetarians as this formula contains elements from animal sources.
Daily Serving
The manufacturer states that four (4) capsules should be taken each day with food. However, they also suggest that two capsules should be taking at two separate times of the day for optimal benefit.
The Cost
A bottle containing 100 capsules is available online for the purchase price of $17.17. Discounts are available on different third party sites where this product can be purchased in bulk package deals.
Guarantee
The manufacturer merely state that they guarantee that they contain within the formula is correct as they are cGMP certificated, but they do not outright guarantee the product in terms of inefficacy. This raises a concern that the formula itself, although correct on the label might not be effective and offer the results a consumer was promised.
Our Review Summary Of Turmeric Ginger Joint Ease
There are many joint supplements that claim to be the best. With Turmeric Ginger Joint Ease, this product delivers on some of the key ingredients that are known to offer joint pain relief and helps to increase mobility by decreasing inflammation. In addition, this company is GMP complaint, which means that the content within the bottle and the label matches. Another good aspect of this supplement is that the dosage instructions are clear and succinct: providing the end user with enough details to correctly use it for optimal health benefits. That said, there are also some concerns we found while doing our research. This as the formula does is very limited. It merely contains two of the 15 key ingredients effective in providing optimal joint health benefits. More so, this company also do not offer a guarantee which allows a consumer to risk-free buy this product, and if it fails to work for them or there are side effects they may obtain a refund. However, with this product this is not the case. What is more, is that for turmeric to be effective it needs agents such as bioperine or even oil to be present for the active ingredient within turmeric to be absorbed.
Well researched reviews, from the experts at Research & You.