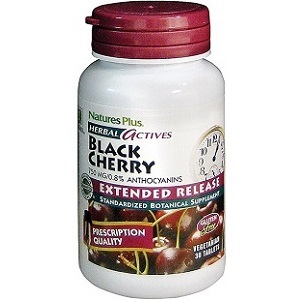 Natures Plus Herbal Actives Black Cherry - Does It Work?-Review
What is Natures Plus Herbal Actives Black Cherry?
Read our Herbal Actives Black Cherry review below: This dietary supplement is manufactured by Natures Plus. The claim is that this product is a good source of antioxidants which fend off free radicals and therefore help to prevent a gout flare-up. This supplement contains anthocyanins, cyanidins and ursolic acid, all useful in treating gout. This is alleged to provide extended support as the ingredients are slowly released over a 10 to 12 hour period. This ensures better absorption of the ingredients.
Ingredients & How It Works
The ingredients within these capsules are the following:
Black Cherry (prunus cerasus / serotina fruit, standardized minimum 0.8% 6 mg anthocyanins) 750 mg
Other ingredients: Microcrystalline cellulose, di-calcium phosphate, hydroxypropyl methylcellulose, stearic acid, magnesium stearate, silica, Activessence (a patented enzyme activation system cellulase, pectinase, hemicellulase and xylanase), and pharmaceutical glaze
Black cherry, a very good antioxidant source, assists the body to absorb vitamins faster, as well as over a longer period. In addition, this substance may be used as a cough and cold treatment, as well as in treating gout, indigestion, and diarrhea. Other substances, however, such as tart cherry, folic acid, artichoke, garlic, yucca, milk thistle, turmeric, dandelion and rutin, have been found in scientific studies to be effective at addressing the physical symptoms of gout. Such ingredients also lower uric acid production so as to avoid future gout flare-ups. This supplement contains none of these ingredients.
Daily Serving
The manufacturer suggests taking one (1) capsule daily. No mention is made as to time of the day best to take this capsule, nor whether it should be taken with or without any food or water for optimal health benefits. The manufacturer does state that a health-care provider's instructions may be followed.
The Cost
This product is not sold directly by the manufacturer; it is available at other resellers. The online site iHerb, sells a 30-capsule bottle at $11.60. On three bottles bought together, a 5% discount is offered: each bottle will then cost $11.02.
Guarantee
The manufacturer guarantees maximum potency. However, there is no money-back guarantee lessening the risk for potential consumers of this product. People are all different, therefore will react differently to any given product. Side effects will indicate the need to stop taking this product: there is no refund offered.
Our Review Summary Of Herbal Actives Black Cherry
Our review of the product Herbal Actives Black Cherry found this a useful product. A good point is that on third party sites this product is sold as part of package deals offering a discount. Cost may therefore be kept low.. The capsule is vegetarian friendly. However, the lack of a guarantee is a concern. This could imply ineffectiveness of the product. Also, dosage instructions are vague on how to take the product for optimal benefit. More so, there are other supplements on the market that are a total-care solution that addresses the physical symptoms of gout plus helps lower uric acid production to ensure prevention from future attacks, which might be better.
Well researched reviews, from the experts at Research & You.