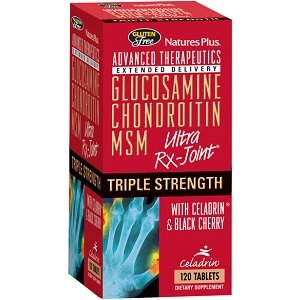 Natures Plus Ultra Rx-Joint - Does It Work?-Review
What is Natures Plus Advanced Therapeutics' Glucosamine Chondroitin MSM Ultra Rx-Joint Triple Strength?
This Glucosamine Chondroitin MSM Ultra Rx-Joint Triple Strength review examines this dietary supplement in more detail. Natures Plus Advanced Therapeutics' claim is that this health supplement is the most advanced joint support product on the market, affording the most superlative joint mobility and lubrication. In addition, it is claimed that this health product delivers soothing effects on the joints by nourishing the cartilage, joints, and connective tissue. Read our review to discover more about this product.
Ingredients & How It Works
Four tablets twice daily provide:
400 mg vitamin C (667%DV)
40 mg manganese (2000%DV)
2000 mg glucosamine sulfate
2000 mg MSM
1600 mg chondroitin sulfate
1500 mg celadrin
200 mg of black cherry
Studies have shown that the substance glucosamine sulfate is useful for the relief of symptoms of stiffness, pain, and swelling in joints. In addition, this element fosters gut health and indigestion. Chondroitin sulfate (normally sourced from animal cartilage) has also been found useful in reducing inflammation and pain, enhancing the mobility of joints. Black cherry is a good source of antioxidants which helps to fight off inflammation. Celadrin reduces inflammation and increase mobility.
Daily Serving
The manufacturer indicates that four (4) capsules be taken daily. No mention is made of at what time of day, and whether capsules should be taken at once or at different times, or with or without food.
The Cost
This product is available on Amazon where it is sold in two different package deals. A 120-capsule bottle costs $35.93. Two 120-capsule bottles cost $69.99.
Guarantee
Our research concluded that this manufacturer offers no guarantee: we were unable to locate any information that indicated such. This places a consumer at risk: the product may be ineffective in general, or it may be ineffective to the individual. Either way, consumers are unable to claim their money back.
Our Review Summary Of Glucosamine Chondroitin MSM Ultra Rx-Joint Triple Strength
This formula contains some of the key ingredients known to offer optimal joint health benefits. These include glucosamine, MSM, and chondroitin. Another benefit of this product is that there is a package deal on which a buyer can save money, especially over the long term. However, even though this product contains some key substances for optimal joint health benefits, the formula lacks certain other key elements such as L-glutamic acid, L-cysteine, rutin, turmeric, holy basil, ginger, white willow, and boswellia. Furthermore, the dosage instructions are not clear. A user may possibly not ingest these capsules at times which lead to optimal health benefits. Lastly, the company does not offer a manufacturer's guarantee on this product. This makes it risky for the consumer to buy such a product: money may be lost if the product has side effects, or is simply ineffective. As such, with these concerns and the knowledge that there are many other, mostly better quality, better priced, clinically tested products on the market, it might be best to investigate those instead.
Well researched reviews, from the experts at Research & You.