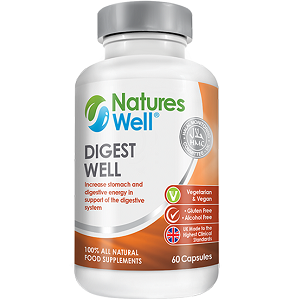 Natures Well Digest Well - Does It Work?-Review
What is Digest Well?
The below review examines all the real facts about Natures Well Digest Well. The manufacturer of this product claims that it is Halal Certified and its unique formula of natural and pure carom seeds will provide beneficial improvement for digestive complaints such as indigestion, flatulence, and nausea. This product also claims that it provides natural anti-inflammatory benefits and that it also contains healing properties and therefore, it is effective for improving digestive health and treating bowel problems.
Ingredients & How It Works
Roasted Carom seed powder - 315 mg
Ginger root powder - 105 mg
Carom Seed Powder is a herb and it can be used to assist with digestive health and it may also help to reduce pain. Ginger Root Powder may offer potential health benefits such as the relief of issues like nausea, loss of appetite, motion sickness and pain.
Daily Serving
It is recommended by the manufacturer that this product should be used as a dietary supplement and that it is suitable for adults and that you should take two capsules per day along with a meal. The manufacturer, unfortunately, neglects to provide adequate cautions and warnings to ensure the safe usage of this product and in light of this, we suggest that you should rather consult a healthcare practitioner especially because research indicates that it could cause a list of unpleasant side effects based on the ingredients used.
The Cost
You can purchase this dietary supplement online from the manufacturer's website and it will cost you $6.96 to purchase one bottle that contains 60 vegetarian-friendly capsules, which translates as a one month supply if used according to the manufacturer's recommended dosage. There are no discounted options suggested which is not too disappointing considering that it is realistically a rather cheap product in comparison to most other similar products.
Guarantee
Unfortunately, this product has not been backed by any kind of money back guarantee from the manufacturer although, they do provide a return policy which is valid for 14 days from your purchase date. The details provided for this policy states that you may request a full refund for damaged products. It is greatly concerning that this policy does not guarantee the claimed effective results of this product and this implies that the manufacturer is probably not confident enough to offer customers a risk-free purchase.
Our Review Summary Of Natures Well Digest Well
This product does use some good ingredients that could provide some health benefits and it is also vegetarian-friendly and Halal Certified which suggests that it may be an ok product. Unfortunately, Natures Well Digest Well has not been backed by any kind of manufacturer's guarantee and as a result, the quality and the effective results are questionable and this is negatively enhanced by the fact that it seems far too cheap in comparison to similar products. In addition, the lack of customer reviews available could imply that it is not generally a popular product and based on the disappointing fact that research was unable to provide sufficient evidence to establish the effective results that this product is capable of offering, we recommend that you should rather consider opting for a similar product available from leading brands that have proven to be effective and safe for improving digestive health.
Well researched reviews, from the experts at Research & You.