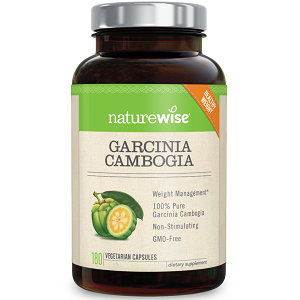 NatureWise Garcinia Cambogia - Does It Work?-Review
What is NatureWise Garcinia Cambogia?
This product claims to be an appetite suppressant and to boost serotonin thereby curbing cravings.  NatureWise claims to use only the best ingredients with exceptional quality to produce a natural weight loss supplement of highest potency and purity. Garcinia Cambogia is a South East Asian fruit, whose rind contains Hydroxycitric Acid which is said to potentially convert excess sugars and carbohydrates into energy rather than storing it as fat and thereby increasing energy levels. They claim that their supplement capsules will enable management of weight issues.  They claim that it is a non genetically modified product and that contains 100% purity of Garcinia Cambogia. They also claim that the product has been formulated by doctors. Read our review of Garcinia Cambogia by NatureWise.
Ingredients & How It Works
Garcinia cambogia
Vegetable Cellulose (capsule)
Organic rice bran extract
It is purely a plant extract with no gluten, wheat, soy, dairy, eggs, fish or nuts and contains nothing artificial.
Hydroxycitric Acid is a chemical derivative of the Garcinia Cambogia fruit rind, which is said to prevent fat storage, improve energy and control appetite. The fruit extract has a 60% Hydroxycitric Acid, which is lower than the standardized 95% offered by other leading brands. Organic rice bran is a healthy oil extract from the rice plant. This is said to treat blood pressure, cholesterol, obesity; for improving energy levels and is an antioxidant. The vegetable cellulose capsule is a fiber from fruit and vegetables and offers a vegan alternative to animal products.
Daily Serving
The recommended daily dose is 1 capsule to be taken 3 times per day.
Up to 3 capsules can be taken three times per day. Capsules should be consumed with a glass of water between 30 minutes and 2 hours before eating a meal.
The supplement should complement a healthy diet and exercise regime.
The Cost
Bottles come in servings of 180, therefore depending on how many you choose to consume per day, could last between 20 and 60 days.
If your order online off their website, each bottle costs $39.99, a discount of $7.51 off the normal price. If you purchase off Amazon, a bottle of 180 is $21.99, an $18 discount.
Guarantee
We could not find any clear policy on refunds on their website.
They mention thousands of positive customer reviews posted on the Amazon website for their Garcinia Cambogia, but when we researched this, we found that there are no client interactions on the website.
Our Review Summary Of NatureWise Garcinia Cambogia
This product seems to be a good pure product that could potentially curb the appetite and aid weight loss as long as diet and exercise are combined with the supplement. We like the fact that there are few ingredients and that the product is natural with high potency. They appear to have a good corporate social responsibility programme in environmental awareness and community upliftment. We like that their packaging is made from recycled materials and uses renewable energies. They are Third party endorsed and are transparent in their operations. Though they claim their brand to be a top seller on Amazon with some good reviews, however, we find it odd that there are no consumer reviews of this product on their website and that there are also negative reviews from consumers who complained about side effects such as stomach aches and dizziness. We also found it concerning that this formula only contains 60% Hydroxycitric Acid which may not be potent enough to deliver any measurable results. Another downside is that this product does not have any form of guarantee which leaves us questioning the effectiveness. Based on our findings, it may be a better choice to look for brands that offer a higher percentage of Hydroxycitric Acid and have a full money back guarantee.
Well researched reviews, from the experts at Research & You.