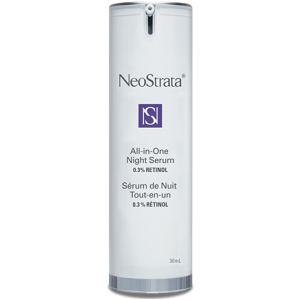 NeoStrata All-in-One Night Serum - Does It Work?-Review
What is NeoStrata All-in-One Night Serum?
This NeoStrata All-in-One Night Serum product review provides information about the ingredients and the customer service that this manufacturer provides. This product is designed to reduce the appearance of wrinkles, dilated pores and other general signs of age. The ingredients of this product are included to nourish the skin and help it to appear healthy and younger looking.
Ingredients & How It Works
New matrixyl
Pure retinol
Hyaluronic acid
The first ingredient is one of the manufacturer's patented ingredients. It is a 5 membered peptide that is able to reduce signs of aging most likely through some sort of cellular signaling and activation of biochemical pathways. The second ingredient, retinol, which is another name for vitamin A, has been implicated in certain biochemical pathways in skin cells that reduce wrinkles by having some role in affecting levels of dermal collagen, the protein that is responsible for the skin's firmness. Hyaluronic acid also helps to firm up the skin by taking up space between skin cells and locking in moisture.
Instructions
Before using this product it is recommended to cleanse the skin to which it will be applied. Apply the product at night on the face and neck doing so on alternate nights for the first two weeks just so that the skin can build up some tolerance to the product. It is not recommended to use this product on the eye contour because that skin is likely to be irritated by it.
The Cost
The price of this product when purchasing it online is $69. Unfortunately, there is no subscription service for a regular order or discounts for ordering in bulk. There is also no loyalty program or point discounts and the price does not include shipping or taxes.
Guarantee
There is also no form of guarantee or evidence of a returns policy for this product. Of course this means that customers are at risk when they buy the product because it may not work and they may not be satisfied, and to top it all off they will have lost money. A guarantee is not an unfair expectation for a manufacturer of this sort of product because many of the leading manufacturers offer a great guarantee simply to express how confident they are that their product will work.
Our Review Summary Of NeoStrata All-in-One Night Serum
This product contains a patented ingredient which has been significantly tested. The fact that it only contains one patented ingredient does cause it to seem inferior to some of the other manufacturers whose product contain at least 5 patented ingredients with clinical studies to match. The price is not unreasonable for this product but if customers consider what they are spending against the fact that it is not guaranteed, then the price just seems like a bit of a stretch. It is also not necessary for customers to accept the responsibility of whether the product works or not because there are products available which are completely satisfaction guaranteed, and we believe customers should start by looking at these instead. 
Well researched reviews, from the experts at Research & You.