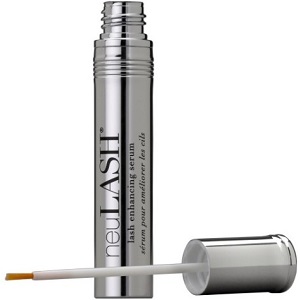 NeuCosmetics neuLASH - Does It Work?-Review
What is NeuCosmetics neuLASH?
This is our review of NeuCosmetics newLASH, a eyelash enhancing serum that has been formulated to strengthen eyelashes and give them a luxurious lush look.
The serum is said to deliver noticeable improvements in 30 days, but the manufacturer recommends ongoing application as a regular part of your night time beauty routine in order to maintain the benefits.
Ingredients & How It Works
Sodium hyaluronate
Biotin
Panthenol
Pumpkin seed extract
In addition, neuLASH contains a "proprietary combination" of amino acids and bioengineered peptides which the manufacturer claims help to protect the lashes and promote their strong, lush looks. However, there is no indication of exactly what amino acids or peptides are included. Of the other ingredients, Sodium Hyaluronate and Panthenon as both associated with hydration, to help moisturize and improve the softness, elasticity, flexibility and durability of the lashes. Biotin, a B vitamin, is said to protect the lashes against further damage while pumpkin seed helps to nourish the lashes.
Instructions
Before using NeuCosmetics neuLASH, you must wash off your eye makeup and ensuring it is totally dry before applying neuLASH.. Using the brush applicator provided, applya single line of neuLASH as on the skin of your eyelid, along the eyelash root, as you would eyeliner. If you get any serum in your eye, immediately rinse the eye with clear water.
NeuCosmetics recommends the following application regime:
Month One – apply the serum every night.
Month Two – apply the serum every night or every second night.
Month Three and thereafter – apply the serum every second night.
Warning: you may experience a tickling sensation on your eyelids after the first few applications of the serum, but this should subside after a week. The product has been tested and found to be safe and non-irritating – but as with any cosmetic, some individuals may find they are allergic to one or more of the ingredients.
The Cost
A 3.2ml container costs $124 while you can expect to pay $216 for a 6ml supply. It's estimated that if you use it as directed, the smaller size should last for between 60 and 90 days; the larger is expected to last for about 120-180 days.
Guarantee
NeuCosmetics does have a return policy for products purchased directly from them on their website, but it is quite complicated and onerous. You have to apply for pre-authorization for a refund or replacement which must include your order number. Then, once you have the pre-authorization, you can then return the item – but this has to be done within 10 working days of placing the order. Even then, if the product is not accompanied by the original receipt; if it is not sealed and in its original container; and if more than 10 days have elapsed since placing (rather than receiving) the order, you probably won't receive your refund or exchange.
Our Review Summary Of NeuCosmetics neuLASH
NeuLASH from NeuCosmetics is an easy-to-apply eyelash enhancing serum that, if used as recommended by the manufacturer, should produce noticeable results within 30 days. It has been tested by an ophthalmologists (eye specialists) and dermatologists (skin specialist) and found to be safe and non-irritating. However, we were concerned that the full list of ingredients is not disclosed.
The product is expensive and if it doesn't agree with you, or you are less than satisfied with the results after 30 days, you will not get a refund. The manufacturer's returns policy states clearly that applications for refunds (an onerous process) have to be dealt with within 10 days of placing your order.
Well researched reviews, from the experts at Research & You.