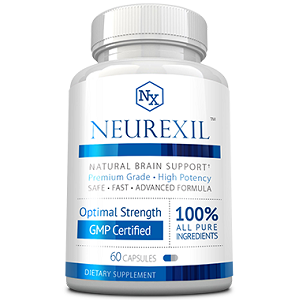 Neurexil Natural Brain Support - Does It Work?-Review
What is Neurexil Natural Brain Support?
According to the manufacturer, Neurexil Natural Brain Support is scientifically formulated to boost your mental concentration and increase energy and motivation. It is said to contain only natural ingredients whose benefits have been touted in several professional publications including the American Journal of Clinical Nutrition. This product is claimed to elevate cerebral and intellectual abilities. In our review, below, of Neurexil Natural Brain Support, we will analyze the formula and other key product attributes so you can make a decision on whether this is a viable option for your needs.
Ingredients & How It Works
Huperzine A - Enhances cognitive function and memory
Ginkgo Biloba - For increased blood flow
Amino Acid Blend - Improves mental energy
Guarana - Battles lethargy
Vitamin B Blend - Supports energy production in the brain
Choline & DMAE - Boosts membrane fluidity
Alpha Lipoic Acid - Increases energy levels in neurons
Phosphatidylserine - Additional neuron support
Acetyl-L Carnitine - "Brain-booster"
Bacopa Monnieri - For speed, concentration and processing of information
John's Wort - For mood regulation
Since this is a certified CGMP product, it contains only high quality ingredients for optimal mental health. It is made as a "brain-booster", to promote energy, motivation and concentration.
Daily Serving
Users should take two capsules of Neurexil on a daily basis, preferably one in the morning and one in the evening.
The Cost
One bottle of Neurexil with 60 capsules can be purchased for $49.95. A starter "bulk" package of two bottles is offered for $34.95 per unit. A four-bottle purchase works out to $27.95 per bottle while the largest bulk package of six bottles brings the per-bottle cost down to $23.30.
Guarantee
Neurexil's refund policy is well thought out to encourage new users to try this product. Customers have 60 days to try the product and test its effectiveness. if not satisfied, they are welcome to return both opened and unopened product for a refund, no questions asked. This is the kind of return/refund policy that indicates a high level of confidence in its own product on the part of the manufacturer.
Our Review Summary of Neurexil Natural Brain Support
Upon final review of Neurexil Natural Brain Support, we're able to recommend trying this product. The product ingredients come from sources which have been proven effective in clinical studies in nourishing the brain. With their four step process clearly explained on the product website, they aim to awaken the brain, enhance oxygen levels to improve learning and clarity, focus the brain by harnessing its natural power and decreasing fatigue, and of course, maintaining long term health. Overall, we recommend this product because it is simple, has facts and claims to back it up, and the price is competitive. We're also fans of the customer friendly 60-day return policy which allows sufficient time to test the product and still get your money back if it doesn't work for you.
Well researched reviews, from the experts at Research & You.