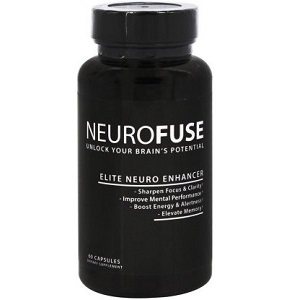 Neurofuse - Does It Work?-Review
What is Neurofuse?
In today's review we will focus on Neurofuse. The manufacturer claims to have designed Neurofuse to help provide enough mental and physical energy for the day. Being at work or going to school, it is important to stay focussed, alert, and energized. Neurofuse also claims to help elevate memory. To learn more about the ingredients, including nootropic and how Neurofuse works, read our review below.
Ingredients & How It Works
Vitamin D3
Vitamin B6
Vitamin B12
Rhodiola Rosea
Caffeine Anhydrous
L-Theanine
Bacopa Monnieri
DMAE Bitrate
Phosphatidylserine
Alpha Lipoic Acid
Choline Bitartrate
Huperzine A
Neurofuse blend consists out of 12 nootropic ingredients. The capsule is gelatin. The manufacturer claims that these ingredients help enhance memory, reduce stress, reduce mental fatigue, boost energy, and improve mental processing. Neurofuse contains an anhydrous form of caffeine. It is better to use a natural form of caffeine, like guarana, in the correct dosage for extended release.
Daily Serving
The Neurofuse label indicates taking 1-2 capsules with a meal. It also suggests that 3-4 capsules can be taken depending on body type, tolerance, and need. It is important to not exceed 4 capsules per serving or 6 capsules in any 24-hour period. It is unclear when the best time of day would be to use Neurofuse.  
The Cost
Neurofuse can be purchased online from the manufacturer's website, however, we were unable to find a purchase price. The only option that is available is to start the free trial. The free trial only consists of 10 capsules, which is too little time to know if it will work. It can be purchased from Amazon for $29.90.
Guarantee
A 30-day money-back guarantee on all purchases is offered by the manufacturer. It is unclear if the bottles must be returned unopened or if opened bottles may also be returned. This type of confusion and lack of information is very concerning for a customer who is unsatisfied with the product and who wishes to return it for a refund.
Our Review Summary of Neurofuse
There are a few things we like about Neurofuse. The product is filled with nootropic ingredients which is essential in supporting the brain with energy and it comes in easy to use capsules. They also offer a guarantee. We do unfortunately have a few concerns. It contains a hydrated form of caffeine which is not a natural form, like guarana. The maximum dosage also seems high, unless so many capsules need to be taken because the nootropic blend is of low quality and ineffective. It is also not made clear when the best time of day would be to take the capsules. Neurofuse does offer a 30-day money-back guarantee, however, there is no indication about the state the bottles must be in upon returning for a refund. A weak guarantee like this might prevent customers from taking the risk in purchasing Neurofuse. There are very positive customer reviews on the manufacturer's website, however, these reviews have been pre-selected and placed on the website. A combination of all these concerns about Neurofuse leads us to recommend that you look at alternative products. 
Well researched reviews, from the experts at Research & You.