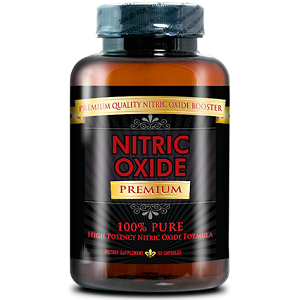 Nitric Oxide Premium - Does It Work?-Review
What is Nitric Oxide Premium?
If you want to increase your workout goals, grow muscle and focus on bodybuilding then nitric oxide is a supplement worth looking into. That's exactly what we do with this review of Nitric Oxide Premium. The manufacturer claims that, when compared with other brands, this product one more ingredient that will boost lean body mass faster than other products and that is L-Arginine (AAKG). Moreover, it says Nitric Oxide Premium will help "supercharge" your workouts to make you more focused and energized. Read on for more information in our full review.
Ingredients & How It Works
L-Arginine Blend/Complex, 1680mg
L-Citrulline, 480mg
Beet Root Extract, 75mg
Pine Bark Extract, 30mg
Quercetin, 30mg
Fenugreek Extract, 30mg
Eurycoma Longifolia Extract, 30mg
Common Oat Extract, 30mg
Bullhead Extract, 30mg
Other ingredients include: Microcrystalline cellulose, Stearic Acid, Magnesium Stearate, and Silicon Dioxide, Gelatin.
L-Arginine and L Citruline have been clinically proven to increase blood flow and oxygen throughout the body, giving it a boost in muscle strength and growth. The other ingredients have been added to complement to the Nitric Oxide blend of L-Arginine and L-Citruline and give them a boost. The manufacturer references a clinical study performed for a medical journal that confirms that Nitric Oxide does increase lean body mass and total strength when combined with a bodybuilding plan.
Daily Serving
On workout days, three capsules should be taken about 30 minutes before working out. If you want an extra boost, three capsules can also be taken the morning of the workout. On non-workout days, users should still take three capsules with breakfast; three with dinner on non-workout days is optional.
Those pregnant, nursing, under 18 or with a known medical condition should contact a health-care professional prior to usage.
The Cost
Nitric Oxide Premium is sold on the manufacturer's website in several packages. A one-bottle supply of 90 capsules is sold for $48 while a two bottle supply is sold for $30/bottle and you receive one extra bottle for free. If you want the four bottle supply, you can purchase two for the price for $28/each and receive two for free. Their top selling package saves customers $270 by buying 3 bottles for $23/each and receiving three for free.
Guarantee
The return policy is strong with the manufacturer offering 90 days to return the product if you are not completely satisfied and both opened and unopened bottles are accepted for return. Since they confirm that many users could start to see results anywhere between one week to one month, this policy gives users plenty of time to see if the product works for them before returning it if needed.
Our Review Summary of Nitric Oxide Premium
When first glancing at the website for Nitric Oxide Premium, we thought it was just another manufacturer of weight loss products joining the fad to make some money. However, after reading the clinical studies and the ingredients for this particular product, we've concluded that if you are looking to increase muscle mass and building strength, this product is worth trying. The price (especially for multi-bottle packages) and guarantee policy are competitive in the market and the formula gives all the nutrients needed. The one thing we would advise is to only take this if you are serious as it should be combined with a well thought-out strength training program.
Well researched reviews, from the experts at Research & You.