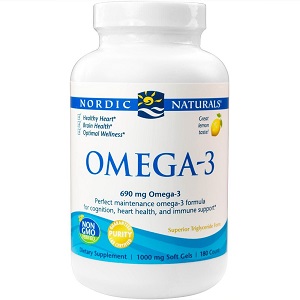 Nordic Naturals Omega-3 - Does It Work?-Review
What is Nordic Naturals Omega-3?
In this thoroughly researched Nordic Naturals Omega-3 review, we look at the product's benefits to human health, side effects, and where to buy it. Omega-3 is an essential fatty acid sourced from fish oil, which is rich in acid docosahexaenoic and eicosapentaenoic acid. It is also referred to as polyunsaturated fatty acids, and it is essential for anyone who lacks fish in his diet and who wants to supplement their diet with a fantastic source of omega-3 fats as a way of optimizing health. This product helps to reduce inflammation and the risk of chronic illnesses such as arthritis, cancer, and heart diseases. It also spurs the production of healthy skin cells.
Ingredients & How It Works
EPA and DHA - These are the main ingredients of this product. They play a key role by encouraging a healthy immune response to help relief many health conditions such as cancer. They also defend the brain and nerve cells from oxidative pressure and damage. Additionally, the docosahexaenoic and eicosapentaenoic acids support the flexibility and mobility of joints.
Purified deep sea fish oil - It is a vital source of fatty acids that helps to boost the immune system, thus enabling the body to resist the occurrence of common diseases, for example coughs, colds, and flues.
Water - It is a vehicle to carry the other ingredients.
Softgel capsules -They make it easy to swallow and protect nutrients from oxidation and degradation. They have also been reported to reduce stomach discomfort when digested.
Natural Lemon Flavor - It contains limonene that helps to enhance the flavor.
D-alpha Tocopherol - It helps protect cell membranes.
Rosemary Extract - It plays an influential role in inhibiting the growth of cancer cells and reducing hypertension.
According to various studies, consumption of Nordic Naturals' Omega-3 in pregnancy may lessen the risk of allergies in kids. Excessive consumption of fish oils may cause side effects to the consumer.
Daily Serving
The suggested dosage for Nordic Naturals Omega-3 is two softgels daily. They should be taken alongside food, or as directed by a pharmacist or a health care provider. This product does not contain gluten, and it is non-GMO.
The Cost
Nordic Naturals Omega-3 costs $17-95 for one bottle of 60 softgels. Customers can purchase a bottle of 120 softgels for $29.95. The price for this product is affordable as compared to other supplements.
Guarantee
The manufacturer of Omega-3 does not provide information on a money back guarantee. It is not indicated if customers can return products they are unsatisfied with and get a refund. This raises concerns about the product's effectiveness.
Our Review Summary of Nordic Naturals Omega-3
We established in our research that this product has a good formula due to the kind of ingredients that it includes. It is not overpriced, and it is affordable for every customer wishing to try it out. The manufacturer's website does not give any warnings or side effects regarding this product. Unfortunately, we did not find any money back guarantee or customer reviews on the manufacturer's website that could boost consumer confidence and provide an indication of the product's effectiveness.
Well researched reviews, from the experts at Research & You.