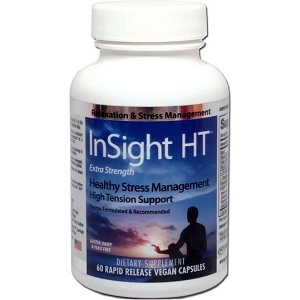 NovaNutrients InSight HT - Does It Work?-Review
What is NovaNutrients InSight HT?
Anxiety is the product of successive and long periods of stress. The body's natural response is to release certain chemicals in the brain, but when these build-up it makes a person unnecessarily worried and they have difficulty relaxing and sleeping. Some manufacturers have designed natural products to try and correct this problem. This review looks at a product called NovaNutrients InSight HT, designed to do exactly that.
Ingredients & How It Works
Niacin
Vitamin B6
Folate
Vitamin B12
5-HTP
L-Theanine
Vinpocetine
Cocoa Flavonoid Base
Niacin actually has the ability to change the electrical activity of the brain. In some cases of anxiety certain parts of the brain are over-active. Niacin therefore helps to reduce this. Vitamin B6 also has a relaxing function in the brain.
L-theanine also calms the brain down and changes the electrical activity in the brain but not as directly. It is a chemical messenger that activates the parts of the brain that are responsible for relaxing and falling asleep. 5-HTP is converted into serotonin in the brain and it has chemical signaling effects too that help to stabilize the mood.
Vinpocetine has been shown to increase blood flow to the brain to deliver more nutrients and oxygen to the brain cells so that they are under less physiological stress.
Daily Serving
It is recommended for the customer to take one capsule per day. This manufacturer does not specify whether it should be in the morning or later in the day. This is an important fact because when the product acts depends on how anxious a person feels during the day or if they are unable to sleep.
The Cost
60 capsules can be purchased once off for the price of $35.95. The manufacturer offers a discount for subscribing for a regular order and the price then is $32.35 for 60 capsules. These prices do not include shipping or taxes.
Guarantee
There is not a satisfaction guarantee for this product. There is a returns policy though. This means that the product must be returned without having been opened. The customer will then receive only 85% of the purchase price back as 15% is charged as a restocking fee.
In our opinion, this isn't beneficial for the customer at all. When a manufacturer does not offer a guarantee, they essentially admit that they are not completely confident in their product and would rather the customer bare the burden if it doesn't work.
Our Review Summary Of NovaNutrients InSight HT
There are a few things we like about this product. We believe it is reasonably priced and that it contains some good ingredients. But there are also a few things about this product that concern us. We are concerned that the manufacturer's unclear dosage instructions might lead to reduced results and that there isn't a guarantee offered on this product. We believe customers should also look at other products which do have a guarantee and clear dosage instructions just to see how these might benefit them more than this one. 
Well researched reviews, from the experts at Research & You.