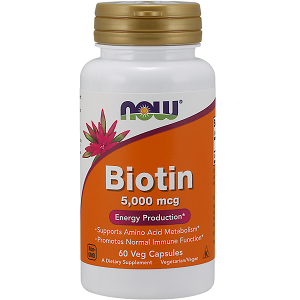 NOW Biotin - Does It Work?
What is NOW Biotin?
This article reviews the dietary supplement Biotin produced by the NOW Health Group. Biotin is a vitamin dissolvable in water required for the body's natural growth and function that regulates the metabolism and produces the body's energy.  They claim that the supplement reinforces the metabolism by amino acids and protein synthesis thereby producing energy. They also claim that Biotin stimulates the immune system and is vital for the health of your skin. They have been manufacturing supplements for over 50 years and their affirmation of quality and safety of products is premium. Read further to see what the experts say about NOW Biotin.
Ingredients & How It Works
Biotin
Cellulose
Rice Flour
Magnesium Stearate
Silica
Biotin is a water-soluble vitamin B that enables food being converted to energy. The product includes organic ingredients that aid digestion, support bone- and tissue health, have anti-aging and anti-inflammatory properties that promote the skin's natural health and beauty.  All these ingredients work towards aiding healthy nails, hair, and skin.
Daily Serving
The recommended dosage is to take 1 capsule daily. Capsules are to be taken with a meal.
Each capsule's serving has 5000 mcg of Biotin.
This product is recommended for adults only. Pregnant or nursing women, people taking medication or those that have a medical condition should first consult with their medical practitioner before consuming the supplement.
They do not claim that their product treats, heals or prevents diseases. In comparison to other leading brands who recommend 10 000 mcg daily, this supplement offers a much lower dosage.
The Cost
You can choose from two options:
The suggested retail selling price for a bottle of 60 Veg capsules is $9.99 or a bottle of 120 Veg capsules retails at $17.99, which can be purchased online from NOW's website. If you do a search, you could buy a pack of 2 (120) from Amazon for $16.25 which offers a huge saving and much better value for money.  
Guarantee
We could not find any reference to guarantees of NOW's supplements or offers of cash back if you're not entirely satisfied with the product which leaves us questioning the effectiveness of this formula.
Our Review Summary Of NOW Biotin
This product is completely vegetarian which is a bonus for Vegans, as well as those with allergies. It is all-inclusive. We like the fact that they are environmentally friendly in reminding the user to recycle the bottle. Having been owned and run by a family for over 50 years, this gives consumers a sense of trust.
A concerning issue is that they reiterate their cautions of the product more than once. They do not offer any kind of customer satisfaction guarantee nor free trial options. The daily dosage is also much lower in comparison to other leading brands. The website is simple and factual with no reference to consumer opinions on the product. As much as the NOW Health Group is well entrenched in their field and should provide professional products, perhaps a more extensive search might find a more superior product.
Well researched reviews, from the experts at Research & You.