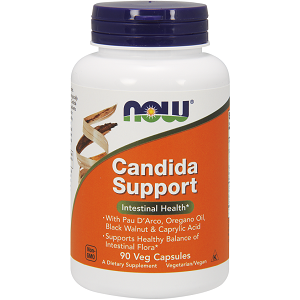 NOW Candida Support - Does It Work?-Review
What is NOW Candida Support?
Yeast infections are one of the most common infections in America. There are many supplements on the market that claim to offer relief from painful symptoms and can prevent yeast infections from occurring. Some are worthwhile and offer real results while others are made from synthetic ingredients that are unsafe for human consumption. This review is going to take a closer look at NOW Candida Support. This product is a dietary supplement that is composed of a variety ingredients including Pau D'Arco and Black Walnut. The manufacturer claims that this supplement is designed to help support a healthy balance of intestinal flora.
Ingredients & How It Works
Biotin - 2000 mcg

Magnesium - 45 mg

Caprylic Acid - 500 mg

Pau D'Arco - 300 mg

Black Walnut - 300 mg

Oregano Oil Powder - 200 mg
Other Ingredients: Cellulose, Garlic, Olive Leaf Extract, Cat's Claw, Wormwood, Silica, Magnesium Stearate, Cellulose Powder.
A Biotin deficiency has been linked to thyroid diseases. Studies that have been done have shown that patients with thyroid disease all had deficiencies in Biotin. A Magnesium deficiency can worse Candida symptoms because it is needed to break down the toxic metabolites of candida albicans. Without enough magnesium, your body can't remove the harmful substances from your body. Caprylic Acid is a type of beneficial saturated fatty acid that has anti-bacterial properties. It can penetrate the cell membranes of Candida yeast cells and cause them to die off. Pau D'Arco helps the body naturally fight off Candida. Oregano Oil Powder contains natural antiviral and antibacterial properties that can help treat and prevent Candidiasis.
Daily Serving
NOW recommends taking two capsules daily with food. This supplement is meant for adults only. You should talk to your doctor before taking this supplement if you are pregnant, nursing or under medical supervision.
The Cost
You can purchase this supplement directly from the manufacturer and from third-party retailers. One 90 capsule bottle costs $19.99 on the manufacturer's website. You also have the option to buy a 180 capsule bottle for $35.99. There are no other bulk purchasing packages or discounts offered.
Guarantee
We were unable to find a manufacturer's guarantee. This is risky and we advise calling their customer service to inquire about their up to date return policy, should you choose to move forward with this supplement.
Our Review Summary Of NOW Candida Support
This product appears to be a promising tool that can potentially help you treat and prevent yeast infections. The manufacturer offers a bulk purchasing option and the formula is composed of several ingredients that have been shown to contain properties that can help relieve symptoms of a yeast infection. However, this product is not backed up by a manufacturer's guarantee which is risky and suggests that the manufacturer is not confident in its product's abilities. It also means that if you purchase this supplement and it doesn't work for you or you experience adverse side effects, you can't get your money back. This is especially risky because the consumer feedback we saw was mixed. Some consumers claimed that it relieved their yeast infection symptoms but many consumers reported that this supplement does not work and caused them to experience adverse side effects like upset stomach and nausea. You are better off purchasing a supplement with positive consumer reviews and a strong manufacturer's guarantee.
Well researched reviews, from the experts at Research & You.