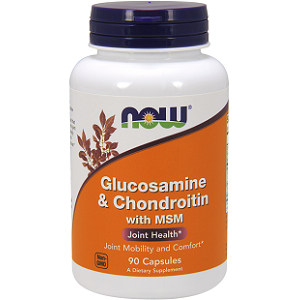 NOW Glucosamine & Chondroitin with MSM - Does It Work?-Review
What is NOW Glucosamine & Chondroitin with MSM?
This is a review of the dietary supplement Glucosamine & Chondroitin with MSM: This health product is claimed to offer support for healthy joints. The ingredients are claimed to create good circumstances for joint mobility and comfort.
Ingredients & How It Works
This dietary supplement capsules contain the following ingredients:
Sodium
Potassium (from Potassium Chloride)
Glucosamine Sulfate (from 1500 mg Glucosamine Potassium Sulfate Complex)
Chondroitin Sodium Sulfate (from Bovine Cartilage), MSM (Methylsulfonylmethane)
Other ingredients: Gelatin (capsule) and Magnesium Stearate (vegetable source)
The substances glucosamine, chondroitin, as well as MSM (Methylsulfonylmethane), offer the dietary components for maintaining healthy joint structure and function. These capsules are free from sugar, salt, starch, yeast, wheat, gluten, corn, soy, milk, egg and preservatives of any kind. However, the capsule does contain shellfish and gelatin, therefore it will not be suitable for those with dietary restrictions or allergies.
Daily Serving
The manufacturer of this health product recommends taking three (3) capsules each day, either with a meal or on an empty stomach. The manufacturer suggests combining this product with other products. This suggestion raises a concern: is this product on its own not effective enough? Why should other supplements be added for optimal results? This product is for adults only. Pregnant women, nursing mothers, and those on medication, should first speak to their doctor before taking this dietary supplement.
The Cost
This dietary supplement may be ordered in either 90- or 180-capsule bottles directly from the manufacturer. A 90-capsule bottle costs $23.99. A 180-capsule bottle retails at $43.99. No other package deals or discounts are offered on this supplement.
Guarantee
Even though the ingredients in these bottles are subject to a GMP certificate, having a sell-by date on the bottles, no manufacturer's guarantee offers the buyer a money-back guarantee. The promises and claims are one thing, however, the results and reactions to the supplement are another, all people being different. Because no guarantee is given, concerns are raised about effectiveness of this supplement.
Our Review Summary Of Glucosamine & Chondroitin with MSM
Glucosamine & Chondroitin with MSM is a dietary supplement that does offer some attractive benefits. It is available in both 90-capsule and 180-capsule bottles. Consumers may therefore have sufficient product at hand. Dosage instructions are clear and simple to follow for optimal results. However, the company does not offer a manufacturer's guarantee on this product. This product contains substances unacceptable to certain diets and allergy sufferers. Lastly, no discounts are offered, which would make this product economical in the long run. As such, based on these concerns and the fact that other similar type of dietary supplements that offer better value as well as much better quality ingredients it is doubtful if this is the best on the market.  Especially this supplements that are a total-care solution to support healthy joints by addressing the causal factors of bad joints as well as dealing with the associated symptoms of bad joints which can include swelling, stiffness and pain. More so, that are formulated to relieve pain, reduce inflammation and reduce stiffness.
Well researched reviews, from the experts at Research & You.