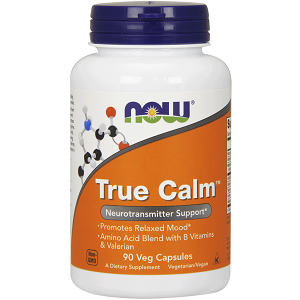 NOW True Calm - Does It Work?-Review
What is NOW True Calm?
Today we will review NOW True Calm. This is a dietary supplement claimed to help promote a relaxed mood by affecting the nervous system with the combination of ingredients found in the product. To learn more about NOW True Calm and to see if it is a product worth trying, read our review below.
Ingredients & How It Works
Niacin
Vitamin B6
Magnesium
GABA
Glycine
Taurine
Inositol
Valerian
Cellulose
Magnesium stearate
The product contains many essential ingredients which are intended for an effective anxiety product. For example, valerian contains sedative properties which help calm the body and the mind. It also contains magnesium which reduces anxiety and stress levels. Finally, it contains GABA which is also an essential ingredient which helps promote relaxation.
The only problem we see here is the fact that these essential ingredients are found in very low concentrations on this product and may be so low that it is ineffective. Also, the product lacks other ingredients which are needed for an all-round relaxation effect on the body and mind. These include 5-HTP, L-Theanine, Chamomile, and Melatonin.
Daily Serving
The user is recommended to take 1 capsule per day, for up to 3 times in the day. It is preferable that the user take the supplement just before a meal or on an empty stomach.
The Cost
A month's supply of 90 capsules will cost $15.99. This can be purchased online from the manufacturer's website. To the customer's dismay, the manufacturer does not offer discounts or bulk packages.
Guarantee
We studied the product's labelling and the manufacturer's website and we were unable to find any evidence of a money-back guarantee. This is very unfortunate, especially for first time customers who wish to return the product for a reimbursement of it does not show the results that it should.
Our Review Summary Of NOW True Calm
Whilst studying NOW True Calm, we came across a few things that we liked about the dietary supplement. The product comes in easy to swallow capsules and contains a few essential ingredients which are important for an effective anxiety supplement.
With this said, we do however see a few things about this product which we do not like. First of all, the essential ingredients found in this product do not contain a high enough concentration to be effective in their individual properties. Furthermore, there is also a lack of certain ingredients which are needed to work in combination for the product to be effective in helping promote relaxation and reducing stress and anxiety.
Another concern is that the manufacturer lacks to offer the customer with a discount or even bulk packages. Finally, the manufacturer does not offer a first time user with the freedom of a money-back guarantee on their products. This will leave the customer with the risk.
Due to the fact that the product seems to be ineffective from the lack of ingredients and the low concentration of ingredients, as well as the absence of a strong money-back guarantee, we are unable to recommend NOW True Calm.
Well researched reviews, from the experts at Research & You.