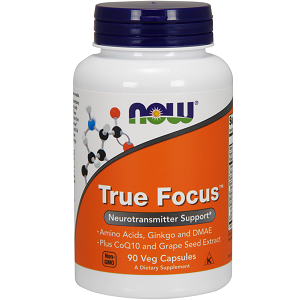 NOW True Focus - Does It Work?-Review
What is NOW True Focus?
The following review is of NOW True Focus. This supplement is intended to promote alertness and mental clarity as well as support general wellbeing. The manufacturer claims that it supplies important nutrients for effective brain-boosting results. We have considered the ingredients, dosage, cost, and manufacturer guarantee to determine whether this supplement is a worthy purchase decision.
Ingredients & How It Works
Vitamin C - 36mg
Vitamin B6 - 12mg
Potassium - 10mg
L-Tyrosine - 800mg
L-Phenylalanine - 300mg
Taurine - 100mg
Grape Seed Extract - 80mg
Potassium Ascorbate Powder - 60mg
DMAE - 60mg
Ginkgo Extract - 40mg
CoQ10 - 10mg
This product contains many ingredients known for their beneficial properties. The inclusion of Vitamin C, Vitamin B6, and Potassium can alleviate nutritional deficiencies which lead to hampered cognitive function. The amino acid precursors L-Tyrosine and L-Phenylalanine aid in the production of Norepinephrine and Dopamine, which are essential neurotransmitters for optimal brain function. Additional supportive ingredients, such as DMAE and Taurine, complement the product's goals by supplying beneficial properties for brain performance. This combination of ingredients may prove effective, however, omits other substances used in competitor products. St. John's Wort and Bacopa monnieri, for example, are found in alternative formulas for their added benefits. You may need to consider competitor dual-action formulas for best results before committing to a purchase. That said, it is positive to see that the product is produced in a cGMP certified facility. This suggests that quality manufacturing processes were used.
Daily Serving
Users are advised to take two (2) capsules daily between meals. While this supplies sufficient quantities of the active ingredients, the fact that this product does not contain many beneficial substances could render the dosage inferior to competitor products. Individual testing is required to determine dosage for best results, however, this can only be done after purchasing the product.
The Cost
Interested shoppers can purchase this product online from NOW's store. A bottle of 90 capsules retails for $19.99. This is relatively affordable, but, is likely because the product omits certain ingredients found in competitor products. What is worrying is that there are no package deals to ensure that prolonged use is cost-effective. Therefore, potential customers may find more affordable deals elsewhere.
Guarantee
The manufacturer includes a 60-day return policy. This suggests that they are fairly certain the product will work. That said, refunds are subject to a 15% restocking fee. In saying so, customers who are unhappy with the product will not receive their total money spent back. It is alarming to note that several customer reviews are negative. Many have argued that the product caused unwanted side effects and had the opposite effect of manufacturer claims. This is a major concern as it does not bode well for product efficacy.
Our Review Summary Of NOW True Focus
There are many ingredients in this formula that are essential for improved cognitive function. This, combined with the affordable price, makes it an appealing option on the market. That said, there are several disadvantages. Many negative customer reviews state that it does not work and induces severe side effects. Unhappy customers are subject to a 15% restocking fee if they wish to return the product. And, there are no package deals to ensure long-term use is cost-effective. For these reasons and more, we do not recommend NOW True Focus.
Well researched reviews, from the experts at Research & You.