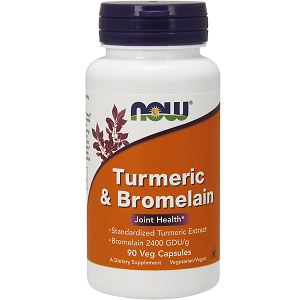 NOW Turmeric & Bromelain - Does It Work?-Review
What is NOW Turmeric & Bromelain?
The following is a review of the dietary supplement Turmeric & Bromelain, by the manufacturer NOW: The manufacturer claims that this health product was formulated to support good joint tissue and overall good joint health. Keep reading our review for more details.
Ingredients & How It Works
Two (2) capsules provide:
Turmeric root extract (curcuma longa, standardized to min. 95% curcuminoids − 600 mg)
Bromelain (2400 gdu/g, from pineapple −300 mg)
Other ingredients include cellulose (capsule), stearic acid (vegetable source), magnesium stearate (vegetable source), and silica. Health benefits of turmeric for inflammation control and joint health are well recorded. Bromelain, the enzyme found in pineapples, helps to strengthen normal immune system response.
Daily Serving
The manufacturer of this dietary supplement suggests that consumers take one (1) to two (2) capsules each day with food. There is. however, no indication whether capsules should be taken mornings or evenings for optimal results. More problematic is that the instructions on who needs two capsules are not clear. It is mentioned that this product is not for the use of children. Pregnant women, nursing mothers and those on prescription medication should consult a doctor before starting this product.
The Cost
A 90-capsule bottle is available online, on the manufacturer's own website, at $27.99. The manufacturer does not offer package deals with discounts which would have made this product more economical in the long run.
Guarantee
There is a manufacturer's guarantee offered on products bought from this company. A buyer has up to 60 days to return bottles, which may be unopened or partly used. Refund applies to bottles at least half full. A 15% restocking fee may be charged on some returns; however, the company fails to differentiate in this regard.
Our Review Summary Of Turmeric & Bromelain
Turmeric & Bromelain has certain good features. There is a 60-day money-back guarantee on these dietary supplements, allowing for the testing of the product without risk, returning it if dissatisfied. Also, two capsules will provide 1200 milligrams of turmeric, a little more than the daily dosage required. However, on the downside, this product lacks attractive package deals with discounts. Dosage instructions are not succinctly expressed. This lack of information could lead to a consumer not taking this product correctly for optimal health benefits. An agent such as bioperine is normally added to turmeric supplements to increase the bioavailability or absorption of the turmeric. Turmeric is not normally easily absorbed. The product may therefore not be as effective as others on the market. With these concerns in mind, and knowing that there are many other turmeric supplements on the market currently (offering better value, both in price and quality) it will be hard to ignore those instead of this dietary supplement. More so, it is not just about taking dietary health supplements, such as turmeric supplements products, you will want one that has been clinically proven to be effective and safe for your health.
Well researched reviews, from the experts at Research & You.