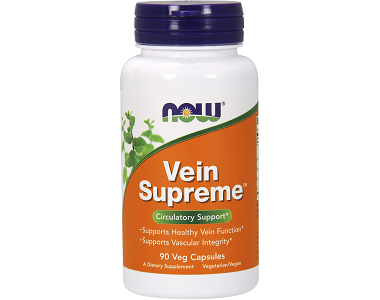 NOW Vein Supreme - Does It Work?-Review
What is NOW Vein Supreme?
The following review is for a product called Vein Supreme, manufactured by NOW. The manufacturer claims to provide a product that is a combination of botanical ingredients for the support of healthy vascular function. The product also helps promote normal venous function and integrity. Read our review below to see if NOW Vein Supreme is an effective product for the support of healthy veins.
Ingredients & How It Works
Trunorin
Horse chestnut extract
Butcher's broom extract
Grape seed extract
Rutin powder
Rice flour
Cellulose powder
Magnesium stearate
Silica
Trunorin is a clinically tested and patented extract that is found to help normal venous function and integrity. The product also includes butcher's broom and horse chestnut seed extract which have been used for many years in the support of healthy veins.
The product does however lack an essential ingredient which should have been used in combination with the current ingredients found in this product. This ingredient is called witch hazel, and it would help reduce the symptoms and pain thereof. The product is safe for vegans to use and also does not contain soy, milk, wheat, or eggs.
Daily Serving
The manufacturer has provided the user with very little information on how and when the capsules should be taken. All a user knows it that 2 capsules must be taken daily. There is no information as to when the best time of day would be to take the capsules and if it should be taken on an empty stomach or with a meal.
The Cost
The manufacturer can be purchased online from the manufacturer as well as other re-sellers found on Amazon. A bottle of 45 capsules will cost a customer $29.99 when bought directly from the manufacturer. When purchasing it from re-sellers, the price will range between $19.56 and $19.93. Free shipping will be included. The manufacturer does not provide the customer with discounts or bulk packages for purchase.
Guarantee
After studying the manufacturer's website, we were unable to find any evidence of a money-back guarantee. A lack of a return policy is seen as a risk to a customer and will hinder one from making a purchase. Customers want to have the freedom of trying a product an sending it back for a full refund if it fails to deliver the results that it should.
Our Review Summary Of NOW Vein Supreme
At first, we saw a few things we liked about NOW Vein Supreme. The product can be purchased from various online retailers for a range of prices.
We do however see a lot of negative aspects about the product that need to be pointed out. First of all, the product does not have a balanced combination of ingredients which are essential for an optimal treatment and prevention product for varicose veins. It is lacking witch hazel, and may render the product ineffective. Secondly, the manufacturer has not provided the user with clear instructions and guidelines on how and when to use the capsules. This could lead to complications and the effect the results of the product. Furthermore, the manufacturer does not offer discounts. Finally, there is no money-back guarantee offered for the return of products when the user is not satisfied with the results. These reasons lead us to believe that the product is ineffective and we do not recommend the purchase and use of NOW Vein Supreme.
Well researched reviews, from the experts at Research & You.